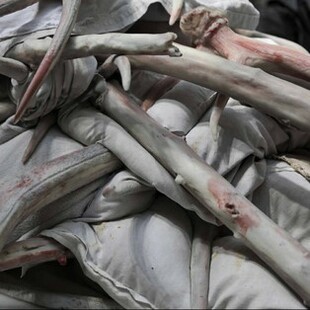 It's actually fascinating to hear Amenra stripped down to acoustic levels. Normally ferocious and high volume, their version of Razoreater here builds with the same intensity as we are used to, but is given a delicate, stirring delivery here in sharp focus. Colin's normally throat-shredding scream is turned down in favour of a sweet and velvety singing voice that actually has shades of Maynard James Keenan, a surprise, but a pleasant one nonetheless. This side of the beautiful picture disc, the incredible imagery provided by artist and sculptor Berlinde de Bruyckere, shines with an uncanny and so far unseen side of Amenra, a peaceful ying to their yang's fury and ichor.
The artwork reflects the music here, considered, minimal and bare and is reflected by Madensuyu's side, where their song Days and a Day evokes emotion, the duo's delivery being calm, yet forceful. It builds without ever crashing into cliched overdrive and as a result has more impact that way.
This is an ambitious and successful collaboration between three parties that also makes an artistic statement. Sometimes focusing on the minimal is what is needed and in this case the minimal sounds huge.