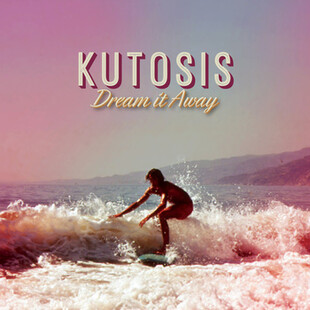 Kutosis are keen to paint a picture. Their merchandise webpage linearly portrays three 80's-tinted coastal images, with a consistent font setting the Floridian tone. The multiple surfers and the middle-aged couple who appear across the triptych represent new album Dream It Away and its two singles, whose sounds you can practically hear before hitting play.
This Avalanche Is eases the listener into the album as a surfer may paddle upon his board before taking a stand, although the tide becomes quickly charged by a 50's rock and roll beat – the likes of which Tarantino might be seen tapping his feet to. The sun beats down and the surf has broken.
Old Judas and single Crystal Beach continue the untamed yet comfortable vibe, but with Horizons we are faced with a harsher beast. As the guitar whines and the tempo increases, we are taken by an earnest yet raucous appeal not dissimilar to Cloud Nothings' later work. As the album progresses, Kutosis continue to echo the Ohio-based indie/ noise rock trio, gluing individual tracks together with their own characteristic yet generally simplistic ear for melody and structure.
The album naturally becomes familiar after a few listens, aided by memorable hooks and big, surly choruses (French Canadian Girls). The familiarity and immediacy is key for the success of the album, as it allows Kutosis to effortlessly flit between classic vibes and a modern harder edge. Many of the instrumental phrases bear the same amicably deadpan rhythmic delivery of the Melvins, particularly the drawl of personal highlight Something in the River.
Dream It Away concludes with Volcano, where we find the album at its highest tide. The lead riff wanes in and out of dissonance as the key changes beneath the guitar, and a slight sense of unease makes itself known. Easy comparisons to Sonic Youth aside, Kutosis show an ability to reflect the intimate possibilities of an emotionally drained vocal delivery, especially when contrasted with the claustrophobic tendencies of high frequency guitar tendencies. In this particularly visceral moment, we feel cognitively upset as the Floridian 80s setting melts away and we remember that the decade also saw the rise of the likes of Steve Albini (who aptly went on to work with Cloud Nothings).
As Kutosis return to shore and the sun sets on Miami, I find myself feeling like Colonel Kilgore, curious as to how a few more explosions along the way might have introduced a greater sense of tidal danger, but – like the perfect surf – Dream It Away is a work of consistency, balance and more than enough sincerity to welcome you back whenever the mood takes you.