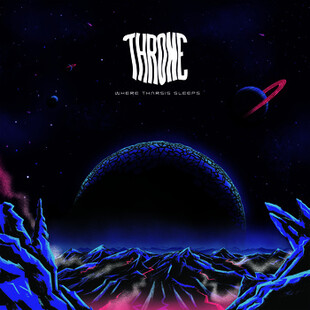 Throne make a noise we love here at ninehertz. Steeped in Sleep and Om influences, they also have this mystical and spiritual whole that is not only guided by the sloping, cruising three-pieces' swagger and outright cool, but the Lee Dorrian-esque storytelling of the lyrics too.
Every line is filled to bursting with fantastical stories of planets exploding, worlds melting in lava and heroes prevailing in apocalyptic wastes. But this isn't some dung-breathed bunch of nerds hiding behind guitars, nope, it's one of the best examples of stoner rock we've heard in ages. There's no dwelling on the needless slow pitch of doom lethargy here, rather a focus on slicing off heads with intent and an effort to make it sound interesting.
Even when it drops speed slightly like on the excellent Ascender it still remains head-noddingly satisfying. Live it turns into a beer-swilling head-banging treat.
If you've grown slightly jaded with the endless sameness and blandness of modern day stoner rock, Throne could well be the band to lift you out of that funk. Joyous, rapturous and the bassist wears King Diamond shorts, what else do you need?