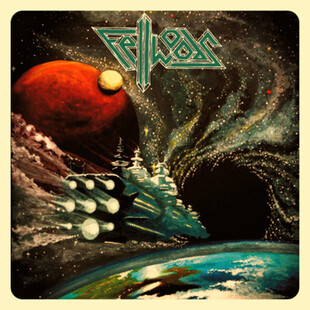 It's good to revisit a band who showed plenty of promise with their debut album, Wulfram, a few years ago, an album that was seemingly Portland's answer to the (then) largely European retro doom uprising. Gyromancer is a neat and trim four song EP that's an attractive way to spend twenty minutes or so.
Their sound is instantly more proggy than I recall, a change reflected in the artwork - where previous a hooded figure petted a stag under moonlight, here a spaceship flies under a futurustic band logo - it screams proggishness.
As such, I'm cautious. However, I'm drawn to third track Dark Horn immediately, a track of two halves with the first a brooding retro occasionally occultish doom of say, Jex Thoth, the second more the prog pomp of Danava. It is sprightly, fun and naggingly persuasive in encouraging repeat listens and worthy of checking in here alone.
Elsewhere, less manages to get past my prog-wary-warning tools I call my ears as respectfully, the overblown and/or silly not always married to the requisite quality of song, but there are nice 70's rock touches that ground it well. As I press play on Dark Horn for probably the tenth time today, I'd have to say it's a winner, an EP to recommend.