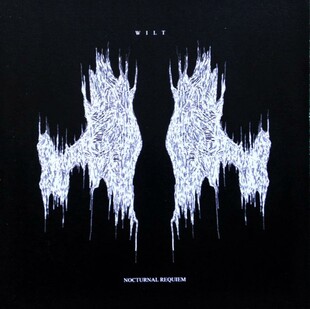 Arvo Zylo is an artist we've reviewed before, his work is challenging to say the least but is also something you'd be wise to investigate if you appreciate noise as a genre.
Arvo has recently set up a non-internet label called No Part Of It. A website exists, but he only takes money orders and mail communication. Wilfully obscure, this is a gateway back to the mid-90s when you'd have to scrabble through photocopied sheets of A4 with brief, absurd descriptions to track down something new, hoping you got something back within a few months. It was kind of romantic in a pre-Amazon and eBay world. I remember ordering CDs in this way, but nothing as unknown or abstract as this.
Wilt is one man, James P Keeler who has apparently been about on the scene for around 15 years. His sporadic release schedule over that time only serves to make this release more auspicious. Minimal, but with some terrifying sounds recorded, Nocturnal Requiem has a dark heart and reaches depths and tones that bubble constantly over the 58 minutes the release encapsulates.
This Wisconsin artist has produced a singular, focused vision that would play out well as a soundtrack to urban decay or a bleak documentary on a declining industry. The use of looping feedback punctuated with organic-sounding keys on Moon Diver however bring to mind Earth at their most desert-dwelling pastoral.
Elsewhere, sound is let out like air from pallid, dusty rooms and allowed to circulate, touching everything with a damp and cold atmosphere.
Take Over Waters Hidden Below for example, the distant field recordings sound violent and action-packed, whereas closer sounds like dripping water and electronic buzzing stand closer, creating an uncomfortable but textured listen of everyday sounds funnelled through the darkness.
Available on pro-CDR, it might be worth going to some effort to track this release down. It's full of invention, melancholy and a quiet, yearning despair, just great.
Investigate how to track down this release and others via No Part Of It.