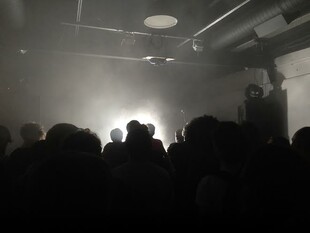 After a break of one year, Supersonic Festival is back. With more than ten years' experience behind them, Capsule are now a permanent fixture in Birmingham and it's great to welcome back such an institution and to see it return to The Custard Factory after rumours of a change in venue. Stepping into the familiar high-rise surroundings felt like visiting an old friend you needed to catch up with, but with subtle changes. For one, the warehouse which once housed the main stage is now closed off, with a whole new space opened up with a much more minimal, but welcoming feel.
Switching to a more compressed, but no less impressive two days as opposed to the marathon of three days, Supersonic Festival 2014 felt like the best yet. We probably say this every year, but the line-up just sang with variation.
Friday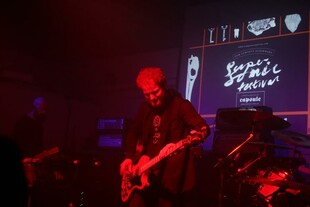 Opening act ANTA are an instrumental four-piece who sound a lot more focused and full of vigour than their set last year at ArcTanGent. With a bassist who wrestles with his bass in such a manner you wonder if it slept with his wife or something, he certainly steals the limelight. Never really seen anyone else play a bass the wrong way round with the fretting hand, but he seems to be enjoying himself, his gurns reflecting the rumbling, heavy sound that is underpinned by some amazing keyboard and synth action. The sound in the smaller Room 2 is punishing, bass-heavy and throttling.
MATMOS are the duo behind the wonderful sounds on Bjork's Vespertine album among others and have a reputation as long-established experimental artists. Their jocular stage patter is overshadowed by their varied set which takes in spoken word manipulation combined with projections that make for an uncanny but mesmerising sight and sound experience. One track, based on the mangled swing of a metronome is incredible, building on the tick-tock of regulated time and then messing with it to dizzying effect. Their final track culminates in spools of shapes flying around the screen and it conjures up old educational films or perhaps the animations from 70s and 80s Sesame Street. This is the most interesting set I think we've ever seen at Supersonic, I only wish they were on for longer.
The metallic groove of OPIUM LORD jars slightly after such a strange experience, but is well worth a check in. Their plodding take on sludge cheers, but soon becomes repetitive, particularly the vocals. Monotone and unchanging, a little variation wouldn't go amiss. That said, the sound makes every clattering riff sound pretty vital so they are earmarked for review on this site on record we reckon.
FELIX KUBIN is perplexing and hilarious in equal measure. Looping circuit-bent notes and a cartoonish sense of fun through his pop-gone-wrong sounds, he throws more curveballs than most people in the room can handle. I witness two baffled security guards giggling throughout and one has to leave via the fire exit when Felix gets out some lightning bolt props to bolster his performance. His style is part Kraftwerk, part Postal Service and has echoes of the likes of Otto Von Shirach minus the sexual infantilism and with a whole lot more camp. Utterly brilliant, he even slips in a Swell Maps cover.
With PHARMAKON sadly having cancelled, it's over to stage two where Mark E Smith-approved EVIL BLIZZARD are plying their four-bassist and a drummer horror show to a packed room. Part Fall-esque repetition, part Melvins groove and undeniably threatening, their masks are truly frightful, yet comic at the same time. They plough riffs until they cannot wring anything more out of it and move with such menacing shapes you wonder if they are going to leave the stage and start picking fights. It's a miasma that's a privilege to be a part of.
Much has been said on SLEAFORD MODS all over the press recently and not without reason. The likes of Stewart Lee and Luke Haines have written about them in terms far grander than anyone else can, but take working class rage, looped basslines and a vocalist in Jason Williamson who is more aggressive than any hardcore or punk frontman in the last twenty years. Genuinely terrifying, he stalks the mic stand, gurning in between lines that pack more in than most bands manage in an album. An almost Tourette's-like end to every stanza means we are treated to pure FUCK OFFs, as well as simply BOLLOCKS when someone shouts a request. The crowd are pretty still throughout, probably rooted to the spot in fear. Andrew Fearn, the duo's backing, simply swigs from cans and nods along, but his presence is vital, a ying to Williamson's FUCK OFF.
Saturday
EX-EASTER ISLAND HEAD start the day off with a set that is part gentle dulcimer-esque guitar hammering and culminates in a guitarchestra of sorts, with around 15 guitarists all palying roughly the same thing to great effect, with all three members of Nottingham's Koguzama playing along too. The group effort at the end is actually the most intense part, with each player showing tension on their face as they attempt to stay in time with such an array of sound. Truly uplifting.
CHRIS BROKAW by contrast is one man, formerly a drummer with Codeine, he is also a prolific solo artist and collaborator too, being a key member in recently reviewed Wreikmester Harmonies. His solo material has a Red House Painters feel, very minimal and bleak, but with a warm heart. He mixes solo material from last 2012's Gambler's Ecstacy with his more esoteric and minimal soundtrack work, particularly for the film Now, Forager. The scrapes and electronic fuzz of the soundtrack pieces contrast wonderfully with the solo work to make a set that's calming and reflective. We're now converts.
AGATHE MAX meanwhile creates a cacophony from a single violin, her pedals creating a maelstrom of sound that draws you in via a vortex. It's slightly unnerving but no less interesting for it. Some may find it too much of a challenge but those who stick around are rewarded. One to look out for again.
The prolific and wonderful Colin Langenus of USA is a Monster has teamed up with Matt Mottel of Talibam! And Nick Lesley of Necking to create ALIEN WHALE which is perhaps the shot in the arm the afternoon needed. Proggish and unrelenting, keytar and overblown and overdriven guitars set to eleven and twelves mean it's a set that's full of volume as well as inventiveness. Part King Crimson, part Zombi on speed, it's a million notes per minute and Colin's concentration face and Matt's sunglasses make this a memorable experience.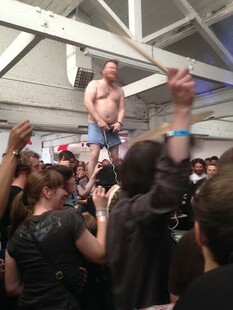 Nothing can quite prepare you for SLY & THE FAMILY DRONE. With amps and a kit set up in the centre of the main room, audience members crowd round the assembled musicians as if drawn in by a schoolyard fight. No coercion is needed however, as the band throw together a cacophony that pulses with evil intent. It's hypnotic enough, but then chaos ensues as cymbals, toms and drumsticks are freely distributed among the crowd to create a din that's heard all over the room. People are caught up in the same way I'd imagine they are during a riot. Overenthusiasm sees cracked cymbals falling apart under splintered sticks and concludes with a boxer shorts malfunction that we'd rather forget, but damn it, that sound is imprinted on our minds like a repressed memory now.
As if that wasn't enough, RYAN JORDAN draws us in with a strobes and noise set that's unlike anything we've ever seen before. Aiming to create a sense of unease and hypnosis, the darkened room is lit only by the incessant flash of white strobes that pump in time to ear-shattering noises that are unpredictable and we are left disorientated and dizzied by the sheer violence of it. Like driving against a tide of foglights while a cassette explodes in your tape deck at full volume, it's a completely earth-shattering performance that leaves us stunned and speechless. Seek out this act for yourself, seriously.
WOLF EYES by comparison are slow-paced and a little flabby, sound wise. The trio make all the right noises, but it's not loud enough to live up to past shows and getting used to the slow burn is the key to enjoying this set. All roared vocals, wobbling basslines and guitar experimentation, it's certainly not the outrageous set many would have been hoping for, but it's pretty vital nonetheless.
It takes BACKWARDS a while to set up, but when their doom-esque machinations grind into life, it's worth it. Like dropping hammers on guitar strings, their pace is slow and punishing and will please many in the crowd who were hoping for some guitar worship. The vocals on top are buried under effects, making it sound like the singer is drowning in a sea of tar. Nice.
The return of SWANS to Supersonic is certainly one that is welcome, something less so is the power cut that threatens to derail their extended set right at the start. Building up an atmosphere with gongs and percussion, the stage is plunged into silence and darkness all of a sudden. Thankfully this is rectified before too long and Gira and co are off to a fantastically rich set full of later material, with none of the sketchiness reported at other dates on their current tour. It's still as if Gira is reaching out and strangling each and every audience member throughout, so mission accomplished.
Long may Supersonic reign, there's nothing like it in the world and we like it that way.