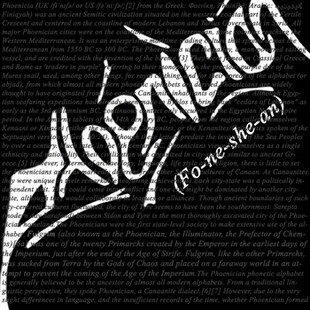 Phoenician is an odd name. I suppose the title of this release, in perhaps a nod to Lynyrd Skynyrd's debut album, is a pronunciation guide, although I notice it's spelt differently in each of the three locations it appears on their bandcamp page which is odd in itself.
Theyre seemingly a new and fresh faced bluesy funk stoner band from Lincoln, this being their debut release, and pretty much all I can find out about them. There's three tracks here that definitely sound like the first recordings of a band - under-produced and slightly lacking in confidence - but there's enough going on to at the least keep your eye on them.
Fulgrim opens a blues groove tab with classic rock hints, maybe justifying the Skynyrd suspicion. It has worrying funk bits littered throughout though that could come from the very early Incubus records, which obviously is not a good thing. The chorus is better, gruffy grungish light-end-of-stoner-rock. 07 doesn't begin greatly, but grows beneficially, a touch southern stoner twang, a Clutch influence. Beetroot Parade closes the EP, the vocals (until now fine with a slight gravelly appeal) entering over the top which creates an involuntary nervous cringe.
Overall, it feels like I should be dismissing this, but it's likeable, with definite pointers towards a potential bright future. As stated, a better production will help. And by that I mean bulkier, perhaps a shade darker, not cleaner which could be their desired path but would signal a wrong turn for them in my mind. That, and deadening those funk guitar terrors and Phoenician could fill the playful British stoner rock summer vibe hole vacated by the much missed Old Basford, which would be praiseworthy indeed.