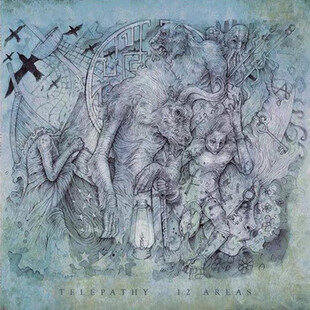 As long as my geography is correct, there seems to be a fertile scene growing in the Suffolk and/or Essex area of late - bands like Meadows, Earthmass, Old Man Lizard and Three Thrones seemingly putting on a multitude of enticing doom gigs in Colchester and elsewhere, and offering some fantastic music to devour. I can add Telepathy to that list now also.
Telepathy are a four piece instrumental outfit that provide cultivated post-metal that balances the necessary dynamics of the genre, the depth and intellect, with the aggression and riffs essential to stop the sound disappearing up inside itself.
12 Areas doesn't deviate massively from the already lain blueprint, but does accommodate several moments of excellence to sustain and announce itself. Cystine Knot twists and turns, Isis and early Bossk evident as notaries, whilst Breath/Motion adds an edge by pollinating Dillinger Escape Plan angles on to the Neurosis riff heaviness. The climax of To Kiss the Ocean's Floor, and indeed the album, follows the ol' industry standard quiet quiet loud mantra, and is mesmerising and all encompassing, the resulting surround sound effect it creates in your mind pulsating.
There are those who feel post-metal has been done to death, a flame that flickered brightly but burnt out quickly, perfected by the early originators and flogged to death ever since. In truth, I'm largely in that camp, but recognise there is still a beating pulse, still a hunger for the indulgent and overblown, and that there remains the capacity to thrill, one which Telepathy provide here. Well crafted, honest and heart felt, Telepathy might not bring a lot new for consideration, but they prove they do it well and take up the UK post-metal mantle with aplomb.