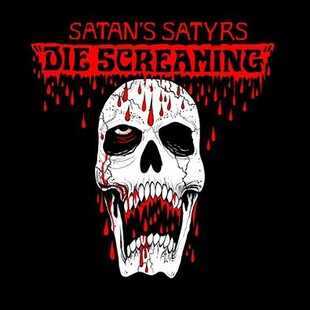 Satan's Satyrs only really arose into my consciousness when they were listed early on to play at Temples festival. In my mission to listen to as many of the unknowns before I attended, I spent a lot of time with their back catalogue. It is enjoyable, but I feared a little too much style over substance, to the occult doom what The Shrine are to the other, perkier end of the spectrum, making the right moves, creating the right atmosphere but never hitting you round the head with songs that you cannot ignore.
Their set was better - their look took me by surprise (I'd imagined big, burly biker gang blokes for some reason, presumably the name), and it was a thoroughly entertaining half hour in the afternoon. Coming back to find their new album for review was an excellent discovery.
Die Screaming confirms this is a band on the rise, the output more consistent and attention gripping than before. Instruments of Hellfire is grimy and punk spirited, while the following Curse of the Corpse is class, affixing all their elements together in a song that grows as it goes on, bringing in the synth superbly - never overused or too prominently across the album, but deftly deployed to great effect.
The heavy opening to Show Me Your Skull is another highlight, fully rocking out. Elsewhere there are moments that pass by, worringly close to my early fears of the band - at their worst, or my meanest there is a fear they know how to play the retro, occult game without delivering sparks. But across the eight tracks here they largely win and quash that accusation, sounding like Kadavar infrequently dipping into The Hellacopters stash for a quick buzz but ending in an Electric Wizard shadowed downer.
Too dirty (and at times too straight up occult doom) to be linked directly to the brighter, mellower tones of the largely Euro led retro doom revival, Satan's Satyrs are ensconed wholly within their own world, drenched in 70's lasciviousness and grime, the aforementioned hypothetical biker gang in a strip club but too fucked to enjoy themselves, sitting in a corner with their head in their hands.