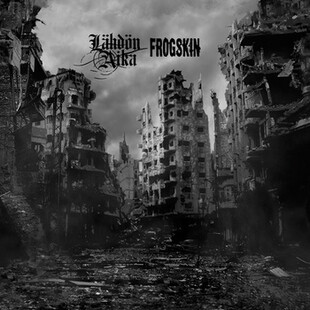 Finland has a very impressive and long history of heavy music, churning out some great punk, hardcore, doom etc.etc. bands over the past thirty plus years, plus having a great reputation for having a really friendly, awesome band community . There's something about this lineage and the staccato, unintelligible language itself that just makes everything sound incredibly intense, serious and heavy as fuck. The two tracks on the split 7" by Frogskin / Lähdön Aika delivers this in its entirety; the Lähdön Aika side sounding like getting chinned, Frogskin like waking up stood over by paramedics.
Lähdön Aika are sludgy doom hardcore with powerful grunge inspired riffage and daemonic barked vocals. I'm really into this track (entitled, Hiljaisuus kaikkialla - translated as "silence everywhere"). It has a very contemporary feeling - especially with the oddly timed mosh breakdown, I cannot praise this highly enough, I've being going nuts for it in my car and screaming along to what I imagine the words might be.
Eight minutes exactly- Itse by Frogskin is a misanthropic, intensely layered, blackened doom journey deep into the forest and a perfect counterpart to the other track. Itse has really good atonal synth in parts that sweeps in and just ratchets up the creepiness. Phenomenally sludgy throughout.
I was determined not to fritter away any money on limited edition vinyl split 7's from awesome bands this month, but I think this release is my kryptonite - I'm powerless to resist. For any ninehertz readers that are worth their salt, this definitely worth checking out: