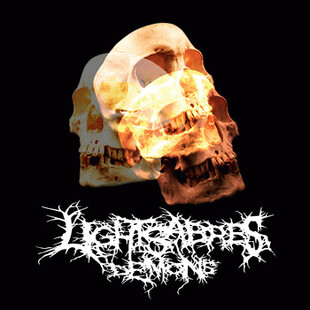 Lightsabres are (is?) a one man project of lo fi stoner punk, short fuzzed out songs that all but the last don't hit the two and half minute mark. Demons is blatantly a labour of love, the outpourings of a guy with desire, passion and skill wanting to overload all his influence into these nine tracks. With doom album artwork, an uber-metal band logo, and a Star Wars themed name, it's impossible to pinpoint where this will go, which obviously is a positive, and thus it proves with its wide mix of style.
Once the intro of Fangs is out of the way, Black Hash sets the groove, raw as fuck, but with a melodicism that could relate to Mondo Generator, albeit if captured by a fan in the front row of a gig through their phone. The vocals are of an old school punk mix, very Iggy at times, with an early hardcore vibe to the guitar on the likes of Eyez, all generally ending abruptly. By the fourth track, Fly Like a Bird the cloudiness of the lo-fi mix, which on the whole is a loveable ode to its humble origins, is starting to grate a little.
Never mind, as it moves on a pace. The mentions of post-rock in the email we received and bandcamp links are presumably in reference to the gentle Red Light and Teeth, but at less than two and a half minutes combined they aren't allowed to develop and stretch, for better or for worse, providing a nice interlude. Born to Die is possibly the most interesting track - a slower drawl that reminds me of something I can't put my finger on for days...until it hits me, out of the blue - it's a Smashing Pumpkins song, not sure which (I'm not their biggest fan, but do/did respect them) - one of the odd tracks from the Mellon Collie double, if the tape has gone through the wash in your jeans pocket and muddied it to near destruction.
The album never really hits the mark - so close on several occasions but falling just short of what you want it to be - and you do find yourself routing for it. A guy on his own, playing and recording stoner punk in the dark woods of Luleå in northern Sweden, it is, ultimately, endearing. Demons may not blow you away, but at around seventeen minutes long, I'd recommend everyone to check in on the bandcamp site as it is sure to raise a smile, at the very least.