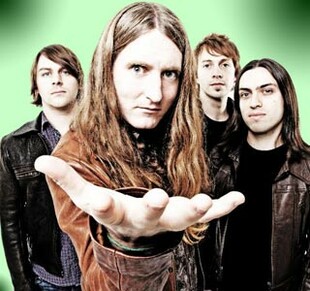 On a wet Friday night in March, I strolled into the newest and best music venue in Chester, The Live Rooms to conduct an interview with Cormac Neeson from The Answer, as he was soundchecking, I was offered beers by the guitarist, Paul Mahon and Bassist, Micky Waters.
Hilarity ensued...
9hz: So, how did The Answer start?
PM: We'd known each other for years and jammed together too, we'd tried to start little bands together too but nothing had ever happened. But then, just by chance at university, I met Cormac.
We had been writing songs and looking for a singer, weirdly, he had already been suggested by people we mutually knew, we had looked for him and couldn't find him. As it happened, the first day of university, there was only one seat left which was next to Cormac, we got talking and he came on board, we then roped James in and that was the genesis of it, we then started playing round home, touring, playing pubs, little rooms and basically cutting our teeth.
9hz: Where's home?
MW: Northern Ireland, County Down. I suppose the band cut its teeth in Belfast city and Dublin really, we travelled there every weekend and played the club circuit, like the indie club circuit really, it would be us with a bunch of singer songwriters or some indie bands really. It was always a very eclectic mix of people. It was good for us as we kind of opened up our fan base a bit.
9hz: What are your shared influences as a band? I assume there are some guilty pleasures like Mark Morrison or something...
PM: Return of the Mack was number one for a reason! You can't argue with that...
9hz: He went to jail for a reason too though, didn't he? Wasn't he at total badass or something?
PM: I'm not sure if he was a badass or he just hung round with badasses though, I think he had the money or he was...
9hz: The "Mack"?
MW: HAHAHA! Well, other than that, our influences are Black Crowes, ACDC, Led Zeppelin but individually, we're all very different, from some of us being quite metal whereas Cormac is kind of folky, Free are in there too.
9hz: If you could pick three albums that you couldn't live without, what would they be?
MW: I'll go, Exile on Main Street, at the minute, I'll say Dark Side of the Moon, maybe Pearl Jam, Verses? That's one of my favourite records.
PM: Ooh, erm, I'm gonna go, Rubber Soul, Beatles. I was gonna say some Led Zeppelin one but, for me, they never made a quintessential album so I don't know, I would say 4 but then again I like all of them. So I'll skip Zeppelin and go Van Halen 1 and probably go Soundgarden Superunknown.
9hz: Twentieth Anniversary of that coming up, are you going to be buying up all the reissue fan pack stuff?
PM: Yep.
9hz: As we briefly touched on before, your sound echoes good 70's rock, like Free and ACDC, would you say that there is room for other bands to progress in what is now quite a crowded genre?
PM: I think we've certainly tried to do that as the records have progressed, certainly on Revival, we were starting to move away from the 'Classic Rock' progressions and solos. But the trend tends to be, judging by the crop of classic rock bands that came along with us they all stuck to that formula.
9hz: Like who?
PM: I guess Airbourne, Black Stone Cherry and Rival Sons I guess, but they have all just re-recorded Led Zeppelin 1!
MW: I think the thing is with us is that we don't tend to copy anyone; I don't even think that James (drummer) even likes John Bonham! Yeah, he was much more into dancey style drumming, like Tool and all that kind of stuff, we don't plan to sound like anything, when we go into record, that's just how we sound. It's purely for enjoyment more than anything else.
PM: We're not ever trying to copy anyone but our influences do show in everything we do, I mean when Rise came out, we were plagued with people calling us Led Zeppelin copyists and all that kind of thing and then when I heard these other bands, they kind of sounded identical the Zeppelin yet they weren't tripped up like we were.
MW: I think that there is always room for great songs, it doesn't matter what the formula is, trends and cycles come round all the time, if it's a great song it's a great song.
PM: You don't have to have a Les Paul and a Supro amp or the same pedals Jimmy Page used to make a great riff, maybe that's what Soundgarden were doing, when they started they were taking things from Sabbath and Zeppelin but they threw in their own time changes. Matt Cameron is kind of an 'off the wall' drummer in a way, so when all those things come together, something new can happen.
The way the industry is pushing it right now, I think ACDC and the Stones are on their last tours but the industry wants to push bands that sound exactly like them to fill the void when it happens, rather than building up new bands.
9hz: There's no way that new bands could ever reach those heights though right? They won't ever be pioneers.
MW/PM: No.
9hz: You mentioned Pink Floyd before, how did the connection with Storm Thorgerson come about?
MW: Our record label, when we were recording the album in Evesham, came out and showed us some examples of Storm's work with Audioslave and Biffy Clyro we said we'd love to have him design our cover, they asked him, sent him some tracks and he loved it.
So he came along for about 2 months after we'd finished the album and interviewed us by email and eventually came up with around 10 different concepts for the cover, we chose one, then he passed away.
His right-hand man finished the project for us basically.
9hz: That must have been a highlight to see Storm Thorgerson's name pop up in your inboxes right?
PM: Yeah! It was pretty crazy to be honest, it's mad to think that he was going to read that and then use it as direction for his own work.
9hz: You were directing Storm Thorgerson!? Haha!
MW: HA! Yeah, that's how he worked though! He did the same for Muse and Biffy Clyro, he wanted to get the best out of all the musicians that he worked with, he very much worked for the band rather than the label, he wanted to get what the band were about.
9hz: What sort of recording methods do you use?
PM: We have done, I think it has its place, but I bet you 90% of the musicians using it couldn't tell the difference. If you did a blind test, it does add to the vibe and the feel and you know, sometimes recording is about creating the right vibe and atmosphere so if that helps, that's cool.
We've done it though, sometimes we record drums to tape then dub it into pro-tools or whatever.
9hz: You guys landed a support slot for ACDC on the Black Ice tour, how did that come about?
MW: Couple of different ways, because we were with the same publishers as ACDC, there was a working relationship with them. Plus, we shared the same producers who passed some of our stuff onto Malcolm, Angus and Brain and they loved us so we ended up being handpicked for the world tour.
9hz: What was that like, was it just absolute madness every night?
PM: It was 10 days before the tour started, that was when we found out!
9hz: Shit! Were you ready?! 'Does anyone have any money I think we need more cabs...'
PM: HAHAHAH! We we're kind of on tour at the time to be honest so we had decent rigs anyway but when you're on that type of gig, it's free advertising for Marshall so...
MW: Ampeg just gave me whatever I wanted! Haha! I want 4 SVT stacks please...
9hz: So, how's this tour treating you?
PM: It's good, kind of refreshing going to places we've never been before, we were in Plymouth yesterday, Southampton on Monday, never been there before, we were as far as Aberdeen which is where the tour started. There are always rock fans everywhere that don't get to see good bands.
MW: Some of these gigs have had 200-400 people each night coming to see us, Middlesbrough and York were great shows and they nearly sold out, so there's rock fans everywhere, you just have to get to them.
9hz: Do you prefer touring life or do you all have ties back home?
PM: I like a mix of both. It's a cycle that is balanced.
MW: I'm married but I don't have kids so it's different for me, our drummer has two boys, so it's a battle of the conscience.
9hz: What equipment are you using currently?
PM: Well, I have two Les Pauls, a classic and a standard, a JCM 800 and a Superlead, pedals wise, I got a Klon for overdrive...
9hz: A real Klon?
(Original Klon Centaur overdrive pedals are super rare and super expensive)
PM: Yep, it was a gift from Angus Young's guitar tech...
9hz: A GIFT?!
PM: Yeah, it used to belong to Ritchie Sambora as he used to tech for him too.
9hz: So, that's why your new stuff sounds so good! I thought there's no way he's recorded the new stuff with that piece of shit amp on the first album!
MW: HAHAHAHAH!!! He knows his shit! Hahaha!
PM: HAHAH!
MW: I have Ampeg SVT's, 8X10 cabinets; I use a Zemaitis bass, a proper one at that, a Precision bass and a Sansamp.
9hz: Thanks for the beers guys, have a great gig.