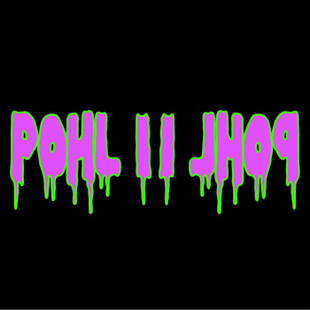 After enjoying their debut EP Pohlsmoker, released in 2012, the announcement of a new release was welcome here at ninehertz. The news that Hugo Morgan, of The Heads, would be joining the then two piece on bass only heightened the anticipation - I love The Heads and this 50% increase in personnel brought with it a sense of cool by association.
Pohl II is a three track EP that undoubtedly increases Pohl's standing in the British alternative rock underground, showing a more accessible slant than their debut, whilst creating some memorable songs. Cute Guy Alert highlight's the band's two piece past, an adrenaline pumped track lead by a quirky guitar line, made heavier by Morgan's bass input. It is reminiscent of Germans Dyse, without their level of ad hoc playfulness. The vocals are perfectly pitched too, moulded around the riff like a rolling story line. It is a great track that will no doubt become their signature tune, a head nod inducer live no doubt.
Eraser is gentler, for while the guitar still feels pointy the vocals bring everything down, the chill out of a post-peak comedown. It has an air of a Desert Session track, the vocals evocative of Josh Homme's early efforts, in delivery if not sound. God Save the Queen (High on Death) begins worryingly with the national anthem, and I'm about to write it off as an oddity too far - Sex Pistols, or Jimi Hendrix's Star Spangled Banner it is not - before it takes on a life of it's own and becomes a slow, almost doomy trip. It still equates to a bit of a trawl, and is the weakest song here.
Still, despite ending on a bit of a downer, Pohl II is a gratifying listen, available for name your price download on their bandcamp, something I'd suggest you all check out. Easily digestible, with the opening song in particular demanding repeat listens, it leaves you with an appetite for more.