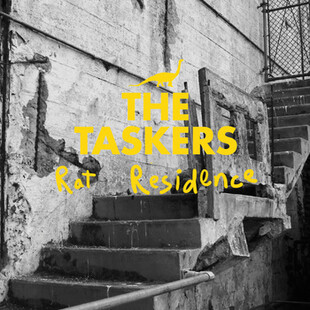 Last year, I played a gig in the home of fine pottery, Stoke on Trent. We were asked to play as part of some creative thing which we all jumped at. The venue was filled with sofas, a stage a small and surprisingly expensive bar.
We set up and had a band before us called The Taskers, we didn't have a clue who these lot were until they went on before us.
A thin and somewhat scruffy looking dude appeared onstage with an SG draped round his neck and a chick drummer that kicked the shit out of the kit without breaking a sweat.
Now, the odd thing that we all noticed first of all was that there were only two of them. They proceeded to make more noise than I've seen a lot of other bands make.
After brief chats and contact via the internets, I worked out that they were in actual fact brother and sister! Not cousins or any of that cryptic shit that The White Stripes fed us forever.
They have building up to a release of this, Rat Residence... this is the strangest EP I have possibly ever come across. It seems to blend the un-blendable and do it well.
Rat Residence is The Tasker's fifth album and it was recorded in possibly the best place to record...a brewery.
The album opens with a track called Raptors which seems to incorporate sheer noise and artificial guitar effects which are usually shunned by many guitarists and bands, but then, The Taskers aren't most bands.
Up next comes I want Pasta! which my band mates all enjoyed live as we figured no one had ever written a song about everyone's favourite Italian food. Big riffs and sloppy time signatures work well in this track and its lyrics are genius.
Intelligence is always a good thing to incorporate into songs; the next track is named Laurie Lee, named after a significant playwright of the same name; Jazzy chords and solid vocal performances from both going on in this track well worth a listen, not heavy at all, just easy.
Something To Me is the next track; the album seems to lose its pace over the next two tracks as they seem to drift off into pseudo open mic territory. Then again, it's better than most things I've heard at those things.
Tell Me is next and seems to do a similar thing to the last track, not sure where The Taskers are heading with this track, there are some interesting sounds going on but nothing to write home about. Mr Tasker has the strongest vocal out of the pair of them.
An avalanche of fuzz introduces the next track and its greeted with open arms, it begins with a ferocious riff that then blends into a major key jam called Halfway a good shuffle beat backs this track perfectly.
The next track to come drifting in is an oddball mix named "Alicia" a strange chord progression with digitalised effects meets a shuffle beat with well matched vocals and lyrics. Another banger from the Taskers.
Another open mic hit pops in next called Waverley; this track begins with strummed acoustic guitar which doesn't seem to fit with the rest of the album. This track is one that I'd skip but then again, others may dig it. I want more riffs from these, I also want pasta.
A Man Possessed comes on next where we here some excellent production and a really strong vocal performance from Mrs. Tasker. Good solid guitar playing and string arrangements. Bravo.
This next track is absolutely fucking killer. If you buy the album on this track alone, it will be worth it. A larger than life riff with a seriously good groove makes Hogs from Hell a standout track for me. De-tuned and simple, Hogs shows the best formula for any memorable track. Changing time signatures at the end and introducing Mr Tasker as bitching guitar player, double tracked and screaming through a big muff.
The next track is a psychedelic chant that repeats do and we say, not as we do. Not quite what to say about that.
Still very cool concept, let's all write a hymn.
The "endsong" drifts back into open mic territory but after the mind twisting album which you've just heard, it's probably quite welcoming!