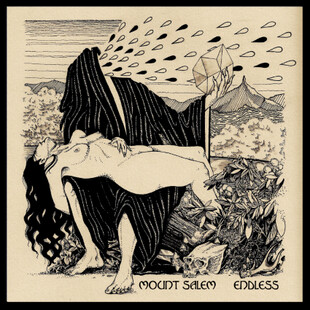 Chicago's Mount Salem are the latest in the quickly formed long queue of retro doom revivalists, investing in their credentials too, using vintage gear, applying superb artwork wizardry and contain a female vocalist, the fast becoming de facto band make up for this sub genre (a positive for sure). If that sounds a tad cynical, then forgive me, as in general I can't get enough of this type of music and the beautiful and often stirring music that has crept from out of the shadows and on to our playlists. And I'm not implying Mount Salem are jumping on any bandwagon either, with this being released previously but due for re-release on Metal Blade with bonus extras in the near future.
It's all about the quality of the music though, as it should be, and Mount Salem hold their own and then some. The obvious comparison is with Canadians Blood Ceremony, minus the flute but containing nicely complimentary organ here and there. It has a positivity running through it too - there are doom riffs summoning darkness, but Emily Kopplin's vocals are strong over haunting, and there's a brightness akin to Blues Pills, albeit denser and doomier.
In places, such as the faster paced sections within the excellent Full Moon it beckons memories of English roses such as Purson or more accurately Uncle Acid and the Deadbeats. It has a grand air about it created by the crisp production and further more by the organ, not over used but applied skillfully (such as on The End).
Altogether this sits in nicely between the darker, doomier end of the current trend - those withdrawing from their Dopethrone vinyl, graveyards and denim jackets towards flares in a hazy summer field photoshoot with a certain reluctance - and the breezier, European sound first developed by Witchcraft but then built upon, filtered and lightened to the point where it is as much Beatles as Black Sabbath in origin. Erring on the heavier side, Mount Salem ooze personality and confidence to stand out, and more to the point, have songs that impress themselves on your soul.