We saw Alright The Captain tearing up the stage at ArcTanGent last year and knew we'd be putting them on at some point. The time has come and we're like, so excited. We catch up with Marty from the band to see what they have up their sleeve for MADE III, taking place at the Audacious Art Experiment on Saturday 29th March!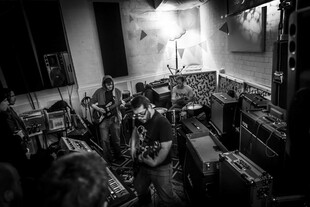 Ninehertz: What can we expect from your set at MADE III? You have an hour to play with.
Marty: You can expect to hear lots of brand new songs from our forthcoming album along with a mix of old songs from SNIB and CSFTSA, it's gonna get hot and sweaty and hopefully we'll get you guys in the mood for a session as we play our little hearts out, we rarely play hour long sets so we'll be ready for a good party after we're done
Ninehertz: Was being an instrumental band from the off a definite decision? If so, what bands prompted you to ditch vocals or be completely instrument-based?
Marty: Pretty much yeah, when we started we were quite inspired by bands like Explosions in the sky and A Silver Mt Zion but we felt we needed to take things up a notch and write some weirder music, we all listen to lots of different genres so it tends to come across in the mix, I used to sing in previous bands but i really hate writing lyrics so just decided not to bother with this project and it's kinda stuck now but thats not to say we will never have vocals, if we eventually feel a song will benefit from them then who knows we might just try it out.
Ninehertz: How do you find inspiration to create? Your sound is quite unique, apart from bands, what makes your collective juices flow?
Marty: We spend alot of time in our rehearsal room working on songs , sometimes they come together really quickly other times they can take weeks but if we're not all happy with how a songs is sounding then we generally dont tend to carry on with it unless we all agree which can be laborious but generally worth it.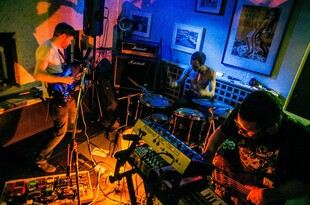 Ninehertz: Pelican once stated their instrumental songs were somehow political, do you think people can gauge meaning from songs without lyrics? Do your titles have meanings for example?
Marty: Songs without vocals can evoke different emotions but its not something we start out with the intention of doing, we write what we enjoy playing and our song names generally tend to be taken from little in-jokes and things that happen within the life of the band, we never wanted to be a band that were trying to say something deep and meaningful, we just enjoy ourselves.
Ninehertz: Do you think events like MADE and ArcTanGent are a sign that people are after more esoteric and intricate music?
Marty: Events like this have definitely pushed the more weirdy beardy music into the public eye and there seems to be a real sense of community now which is really nice, we've come across some amazing bands over the years and continue to stumble across new gems all the time, everyone seems to push themselves that bit harder now and it really shows as the bar has been raised so high with bands from all over the world touring the DIY circuit, Arctangent was one of the most amazing weekends ever and it was just nice being at a festival where everyone is there for the music.
Ninehertz: You've been on countless tours and played all over the place, where's your favourite place to play and do you have a favourite venue?
Marty: One of our all time favourite places to play is Music City in Antwerp, it's our home from home and we love playing there so much.
Ninehertz: Conversely, is there a place you'd rather not go again?
Marty: We'll always give a place a few chances but our worst experience was probably in Schrobenhausen in Germany, it was just so badly organised and we'd driven hours to get there to play to a small handful of people that were only there to drink and didnt care about seeing any music, we still played with every last bit of energy we had but it was disappointing when we had to then travel back on ourselves to get to the next show in Berlin, which thankfully was a lot better.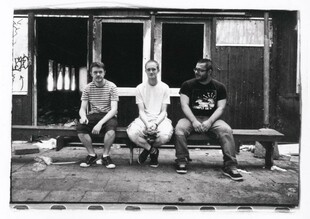 Ninehertz: We've asked this question to different people and get a variety of answers, but what's the funniest thing you've seen at a gig you've performed at?
Marty: Hmm, we played a show in a massive squat in Amsterdam and pretty much annoyed the hell out of the people who lived there, two of the girls that worked there then decided to "form" and impromptu band and just made a load of noise, we were unloading our gear and literally had to rip the drums away from them so they decided to carry on banging on beer crates and trying to get the microphones turned on so they could continue which was quite funny.
Ninehertz: It's fast becoming obvious that people crave vinyl, cassettes and unusual media when it comes to this sphere of music, what's your take and would AtC be open to releasing records/tapes or are you fans of digital?
Marty: I'm a big fan of vinyl and would much rather buy that when we go to shows cos it looks so good, we're actually planning to release our new album on vinyl but will include a digital download code as we know people want the best of both worlds alot of the time. Digital is extremely useful tho and means that your music can reach a far wider audience which is really cool, Bandcamp has been one of the best things that could have happened for unsigned and upcoming artists.
Ninehertz: Are there any bands you'd like to recommend to people who are coming to MADE, or acts that you think would do well at MADE?
Marty: You should definitely check out OBE, Bear Makes Ninja, Cleft, Polymath and Cheap Jazz, they're our top tips at the moment
Ninehertz: You've started monthly nights at J T Soar in Nottingham, who should we look out for?
Marty: All of the shows booked so far have amazing lineups so you should probably come along to all of them on the last Friday of each month and bring your own booze for some serious party times. The First one was rammed before the first note was even played so get down early!