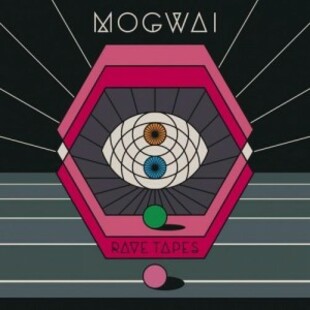 It's been a fair few years since I've been really hyped up for a new Mogwai release. While they're consistently great and are by now the village elders of UK alternative scene (you can't really label them 'Post rock' anymore), it's more a case of "Oh hey, a new Mogwai album came out a couple of weeks ago" rather than crossing the days off until release day. I didn't even realise Rave Tapes was the coming out until I spied a poster in HMV on one of my recent lunch breaks.
With the album on my headphones walking to a gig on a wet Sheffield night, something clicked. With Rave Tapes more than other releases in recent years, you have to put yourself in a certain mindset and realise that modern day Mogwai is all about the journey, not the destination. Gone are the days of the protracted quiet to loud build which characterised much of the bands early work, and in it's place there are shorter, more polite pieces which stick to and explore certain moods.
With this album more than most, there is an overriding theme which is... 90's synth noises. They don't dominate; there are still tracks like Blues Hour which could have been lifted straight from CoDY and there are plenty of places where guitar is still king, but electronic bleeps and thuds are very strongly present. First track to be showcased was Remurdered and it's an excellent taster of what the album has to offer, shifting and moving above a shifting bed of arpeggiated synth chords and square wave bass noises.
While any Mogwai album is worth your time and money, the band will always struggle to have the kind of impact they had with their first 2 albums. They're more restrained and willing to experiment these days and Rave Tapes is a perfect example of this. While it lacks a little in the way of excitement, there will likely be an ideal time to take it in and appreciate it.