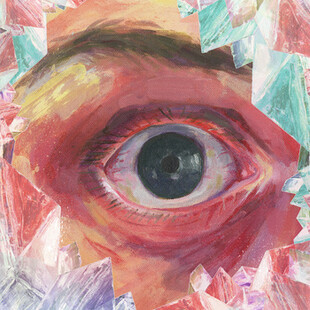 Formed a while back, The Mire originally featured members of Bossk and Centurion. From what we can gather, those members have since left (Bossk having since reformed) and the core unit of this band have re-organised themselves into what we have here on Glass Cathedrals.
This is post metal in extremis, but there's a certain sound underneath suggesting an emphasis on the metallic end. The groove-laden style of their songs brings to mind a more nuanced Until Your Heart Stops-era Cave In, the steamroller-esque driving percussion and mix of softer, cleaner vocals alongside the spat out vitriolic screams means there's a duality at work.
The sound is huge, towering and euphoric, layered guitars and a drummer who seems to crack at his snare like a whip mean a rumble that's full of tension. Tracks like Triple Gemini ring with some purely beautiful moments of peace, but then explode into tortured screaming sections with almost a sludgy sense of distance and bleakness.
It's often said that the post-metal genre, if you are at pains to call it that, is stuffed to overcapacity. Nonsense, if bands are still managing to make it sound this engaging and interesting, there's life in the old horse yet. Bands seem to have moved on from borrowing heavily from the likes of Isis/Cult of Luna/Pelican et al and a second (or even third) generation of progressive, twisting and turning music has been pushed to the forefront.
The Mire might have a few generic moments, but for the most part, this sounds like a band fired up from the moment this album starts. You can imagine their live shows are like a vortex of sound, drawing unsure cynics in with the significant chops on display here. Investigate if you're wondering where 2014 is heading for this kind of music, it seems healthy from here.