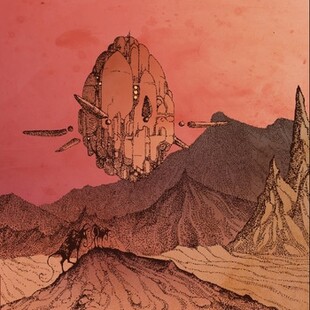 I once had the experience of seeing Slomatics soundcheck. While those in bands must be used to it, there's an occasional thrill for non-musical types like me to be had from seeing bands warm up before a gig has opened it's doors. I was loading a friend's gear into the Old Angel one time when I realised the only people in the room were me, the sound guy and Brant Bjork repeating "1, 2, allriiighhttt, good times" into the mic - I just stood their grinning like a fool. Anyway, I digress from the subject. Slomatics were playing a gig for us in the much missed Cricketers Arms in Sheffield and when they started up they created a record of being the only band I've ever seen cause distress to the otherwise couldn't be nicer bar staff. When in the venue room upstairs, with only me and (ninehertz editor) Mike present beyond the band, the volume, the weightiness hurt, as we pulled grimacing faces as if staring into a biting gale.
Slomatics have been around for a decade now and are renowned for their obsession with the heavy - a preoccupation with sonics arguably prioritised ahead of actual songs, at least in a more traditional sense - like the Joe Satriani of amplifiers. It is an unfair generalisation, as across their many releases they have produced many superb moments of doom heaviness. If in any doubt though, Estron will eradicate it immediately.
This is a masterful release, all experience and skill honed towards it's production. Listen to Tunnel Dragger for proof, worthy of the price of the vinyl or CD alone, it contains their trademark stomp through it's soul but evolved to astral proportions, with a groove that propels the riffs onwards. Play Futurian or Troglorite turned high; along with their peers Conan, Slomatics create music that heavyweights such as High on Fire, Black Cobra or Yob would be honoured to call their own, but with it's own level of distinctiveness.
All seven tracks come together in prime fashion, the crowning glory of a band at the top of their game producing magnificent blocks of concrete thick doom with an intense zeal. Majestic.