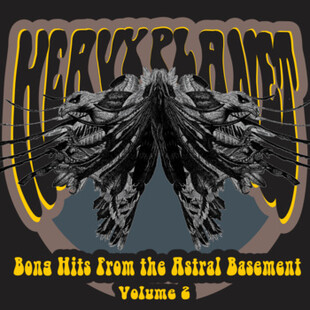 There are a plethora of decent webzines and blogs around nowadays reporting out into the ether on all that is stoner and doom, something that hasn't always been the case, especially after stonerrock.com shut down. Heavy Planet is one of the (relatively) new breed, an American site that has seen fit to put together this compilation - a one hundred track grouping that is free to download, with the noble goal of giving anyone tuning in a longer list of bands to check out than before they started. As they say themselves "With this compilation it is our hope that you will find a new favorite band and will share with others that love great music. If you like a band make sure to purchase their music, merchandise and attend their shows if they come to your town."
Sitting through compilations, especially when as capacious as here, can be a strange adventure, with quality and personal preferences peaking and troughing dramatically song to song. Still, if you can maintain your focus throughout the many hours offered here, gems shine through and give a tingle as you scramble to check the tracklisting to see who you need to look into further. I can't comment on all 100, but here at some of my highlights.
The previously unknowns that jumped out provide the biggest thrill. Menhir and 30,000 Monkies, with their sample laden riffs and blackened noise menace respectively, were my favourite discoveries, leading to me finding their bandcamp pages immediately, and subsequently review them individually. Bushfire raise a smile with their old school stoner mix of influence, sounding like Bongzilla vocals over an Alabama Thunderpussy rocker, before surprising with an almost black metal close.
Fears that this may just tangle into one large tumbleweed of lowest tier tired stoner rock cliches prove unfounded, firstly with a greater stew of genres abound. Doom and sludge is well represented, naturally, but there are more black metal influences than you'd think, with some taking the whole under production of the classics too far, meaning you have to turn up just to hear anything, and then curse their Satanic Scando souls as the following track blurts out of your speakers twice too loud. Mindpath begin all tech death metal, lead into black vocals over stonerish twangy guitar before pure Enslaved worship. Missiles of October corner the comp's crusty Amebix meets Unsane shambolic punk angle.
The other reason to dismiss the fear is that there is some decent old fashioned stoner rock here and there. Absolute Blackness give a welcome impression of a beefed up Small Stone band, as if covered by Scissorfight, Fen glimmer under a sheenier production that gives them an Eagles of Death Metal playfulness, and Tunguska Mammoth are another to attract further investigation beyond Heavy Planet's page. Add in Red Desert who I enjoyed without being able to name anything different from their influences, the excellent Moths and Locusts track, Entierro and others and there's life in the much chasitised sound yet. The main issue that plagues much modern stoner trying to rebuild it's credibility - cringeworthy vocals - is on the whole not evident here. Many even go instrumental, Croatians Drone Hunter providing an example of how to do it well, with a track that could have been lifted from Wild, Wonderful...Purgatory.
There are names that will be familiar here too. Dali's Llama are still plugging along having forged their dirty stoner sound in the generator scene that spawned Yawning Man, Fatso Jetson and Kyuss, Sons of Huns submit their Sleep worshipping Lord of Illusion, whilst newly touted names such as Foghound and Chron Goblin display why their recent promotion into the psyches of stoner and doom fanatics is deserved. Moon Coven and Mountain Witch contribute excellence, but I've reviewed both recently so won't go further.
The British are well represented too. Groan seem to overpower the whole compilation, sounding like a Mongol Warrior boogieing on a wedding dancefloor in full war dress while Mother Corona and Ten Foot Wizard prove pure stoner can be done well on both sides of the Atlantic. My county of South Yorkshire is represented by Hiram, who contribute ten minutes of a Mike Patton project playing Neurosis records on loop angular muscle, and the ever enduring and endearing Mothertrucker provide the instrumental highlight of the compilation.
Beyond these, many snippets stand out, brief moments of difference and curiosity. Others protrude for different reasons - like Defeating the Porpoise (song title: Weed the People - nasty grim sludge as it happens), who would win both best and worst band name if it wasn't for Psychedelic Sex Organ pipping them to the latter. And the award for best opening sample (ever?) goes to CSBR Experience - I won't spoil it for you, just listen to the first second of their track (which otherwise is sadly unnotable).
For those of a stoner rock leaning and a few hours spare, there really is no reason not to check in here - variety, quality and depth, all for free. Everyone will find something to invest more time into, proving the hypothesis of the compilation. Well done Heavy Planet - we salute you.