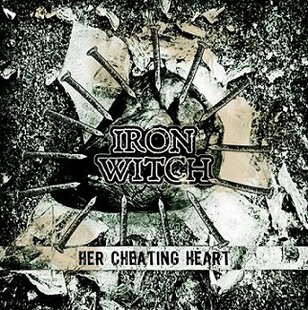 Two hard-gigging conquering assailants of the British extreme underground spew forth one track each here, just shy of seven minutes each of mood-dampening sludge.
Iron Witch's Her Cheating Heart is slow to the point of enervated deathliness, struggling to hit the end of each note, never mind reach the end of the song, as if drugged, chained to breeze blocks and chucked in the Mersey, the vocalist doing his best to approximate the resulting cries for help. As with all Iron Witch output, EyeHateGod stand out as an obvious pointer, but this contains a deathly morosity that is all of it's own.
The Atrocity Exhibit are one I've not kept tabs on, what I've heard previously not taking my fancy, but Throne of Bile does nicely. They've either embraced a doom angle, a sludge blanket over their grinding incursions, or I wasn't listening properly previously. This is again painfully slow - bleak and discordant. It doesn't quite emit the same lethargic threat of Iron Witch, but it'll still darken any room it will be played in.
Another enticing slab of oppressiveness delivered by the Witch Hunter for vinyl doom junkies to devour.