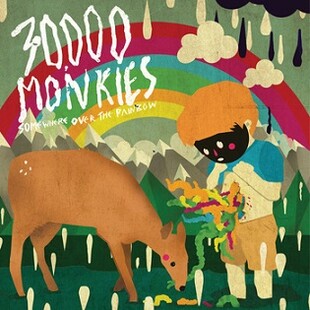 Look at that album cover! Just look at it, it's... bewildering. 30,000 Monkies are from Belgium, and due to their numerical moniker sneakily sat atop of the pile of the alphabetically ordered Heavy Planet compilation, of which this is the second review bourne of further investigation of those that stood out.
After searching for the band, my initial thoughts were "look at that album cover!" but that quickly was surpassed by the excellent attention grabbing opening track Imperial Staches. Harsh riffing hardcore that is full of ideas, tantalisingly short, it comes across like Unsane at their most menacing, it's over before you know it, leaving you salivating for more.
30,000 Monkies have that experimental air of the under-heralded UK scene of bands such as Part Chimp, Todd et al - not afraid to mix Melvins style sludge riffs with hardcore vehemence and a willingness to fuck with song structure and bizarre noise input. Naturally it toys with your enjoyment, stretching it at times to a point of annoyance, whilst cosying itself up to you elsewhere.
The thirteen minute closing Batteram is all discordant doom sludge, evocative of the sonic batterings Slomatics deal in. This four track album is a hurricane of an experience, leaving you unsure where you stand as it blows on to destroy the town over, but the overriding feeling is that this is a band to be lauded, for all the scattergun influence this is bloated with originality and intelligence.