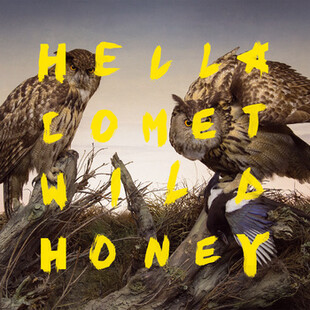 This has been in constant rotation since I received it a few weeks ago. Hella Comet are an Austrian band with influences that stretch from the obvious (shoegaze/90s alt rock) to the unexpected (mid-90s britpop).
The shoegaze element is there from the off, it's all soaring guitars and Cocteau Twins-esque vocals floating in and out at points. However, Hella Comet's oeuvre is a lot more spiky than that suggests. They have some quite metallic elements in there, think Sonic Youth's Silver Rocket and you have an idea of how wild they can be.
That said, there's no denying that indie sound from the mid-90s that floats all over the release. There's a section in Scatter The Ashes where an insistent staccato stab brings to mind the Pavement tune Carrot Rope before flying off into post rock/shoegaze crescendos. There's also a hint of The Flaming Lips in here too, an obvious love of effects pedals makes the lengthy Binaries a wordless joy.
What's appealing about Hella Rocket, apart from the beautiful vocals courtesy of Lea Sonnek whose vocals wheel from achingly delicate exhalations to fevered croaks, is their sheer variety. They can be knocking out a euphoric paean at one moment, exploring a sonic landscape another and then moving on to mid-paced rock numbers in the blink of an eye. They create a sense of tension without being too obvious about it, in that way that bands like Bardo Pond do, but perhaps with a more straight 'songwriting' feel. The fresh, invigorating rush of Tinker Boat for example being a slow burner, while other, heavier tracks like Mustard Sea go for broke.
This is an excellent album, fans of Sonic Youth, Explosions In The Sky, Monarch! and even alt rockers will be all over this. It's that good.