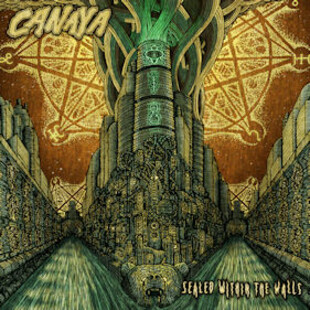 Leeds has always been a hotbed of hardcore/metal talent and among the dreck, there's a few genuinely amazing bands furiously pounding away to great effect.
Canaya are one of these bands, with members that used to make up such fantastic acts as Tangaroa, Executive Distraction Tasks, Hot Prophecy and Nerve Engine. Furiously choppy and chugging at times and then blasting at others, it's a sound forged from listening to a healthy diet of Hydrahead, Neurot, Relapse and similar labels. The sound is accomplished enough to stand out from that comparison though. There's some real moments of genius contained within what appears at first to be a riff fest for metalheads who prefer low slung jeans to bullet belts.
There's even some pretty old school-sounding group vocals on Award Winning Bastard before it transforms into a mellowed out head-nodder.
It seems like there's been a big gap between releases for this band, and the time out has paid off. Not a moment feels wasted, their highly-complex song structures never seeming to drag or bore which is a real trope for bands playing this particular genre.
The desperate-sounding Monarch of Sin has a certain Cave In feel to it, the overall feel being one of unrelenting, steamroller riff action. It plums the depths of death metal at times however, going on a low-end rumble at times, complete with death grunts. There's little space left anywhere either, it's as tightly packed as you expect their shows might be.
Leeds friend John Sutcliffe of the sadly recently-defunct Humanfly even shows up to lend his vocals to the mind-bending Committed which lends it a post-apocalyptic and panicked feel. This is metallic hardcore at its most fevered and sprightly and is if anything, too busy at times to focus on.
No matter, there's enough here to keep anyone pleased, the chuggathon of Audio Porn For The Blind brings to mind Meshuggah minus the 'look at me' fret wankery. Y'know, sounds like an actual song like.
Look out for a new video the band have out soon and keep an eye on lineups in Leeds, they are sure to be flattening a crowd near you soon.