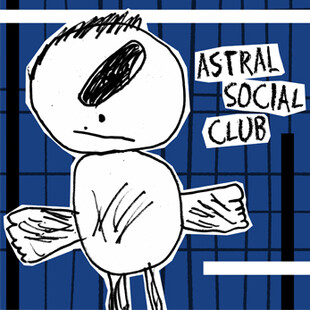 Astral Social Club is one Neil Campbell, prolific post punk underground mainstay and all-rounder. His past work with Smell & Quim and Vibracathedral Orchestra are well-documented, but his solo work as ASC is less well-known. Having collaborated with a multitude of artists over the years and having released countless CDRs, it's nice to see a more prominent release sent to us by Must Die Records.
This short, but sweet 7" hums along glriously on the first side as Metal Guru burns itself into your memory. Plodding into some motorik grooves one moment before the wheels fall off and screeches and peals of scraping make it all uncomfortable. Apparently the CDR version you can add as an optional extra to the wax is more sedate and flowing.
B-side Moonage Daydream sounds like some lunar dot matric printer, relaying instructions to a distant, rarely-manned moon base. Regular digital blips and a pulsating heartbeat tom sound throughout along with some distant vocal distortions mean it's rhythmic but not something that draws you in. Like the beep of a heart monitor in some dystopian hospital ward, it's a curiosity rather than a mind-expanding diversion.