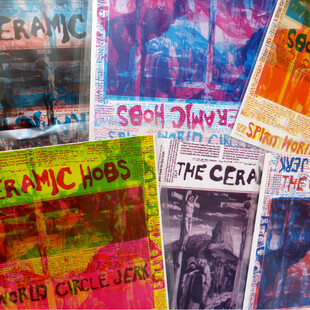 If you've never come across The Ceramic Hobs before, some background will be of some use.
Gleaned from a distant corner of the web: "The Ceramic Hobs were formed in Blackpool in 1985 by Simon Morris and Stephen Lambert, inspired by the DIY cassette culture of the era and has become in effect an unfunded, unique and independent radical therapeutic community for persons diagnosed with schizophrenia and other major mental disorders. Since its inception the band with an ever-changing line-up have produced more than thirty difficult releases on vinyl, CD and cassette for many different worldwide record labels and have regularly performed live shows in the UK and mainland Europe. They have been closely associated with the civil rights group Mad Pride for over a decade and currently boast four band members with psychiatric diagnoses who have done time in nut wards."
Nothing could quite prepare you for what's on the record then, my reference points are so wide it's almost impossible to review with any absolute clarity. There's definitely some punk influence in there, along with The Fall, but also the spirit of Hawkwind, crossed with the complete avant-garde of Wolf Eyes and Sunburned Hand Of The Man.
Take the absolute variety pack of noise that forms opener Say No To which combines assorted rumblings and pop samples along with spoken word to form a mesmeric, pulsating form that's way above what it could sound like, which is a load of people creating a noise in a room. What we have here is a spiralling, whimsical introduction to a group that have been laying down 'tracks' like this for years and know how to grab your attention.
The punk and roll of T. A Death for example is a snotty, simplistic rant of a piece that encapsulates not only frustration but that late 80s post punk sound, along with contemporary blasts of noise from the following two decades.
Side two of this LP, limited to 250 copies is the twenty-minute Voodoo Party which starts off like ambience from a sedate party, people talking, light music funnelled in, laughter and the clinking of glass. The music sometimes takes centre stage, a big jazz number threatens to go off halfway in, but soon dizzies down into rumbling static and a drum kit being pummelled and what sounds like an air-raid siren being abused.
This too dies away and a tribal beat starts up, along with skronking brass and a group chant that sounds intimidating and powerful as soon as it starts and only gets more intense. It builds and builds, with startling skips and pops in the recording only adding to the cacophony. You can imagine a room of ten people all working themselves into a sweaty frenzy to produce this. It eventually melts off into slurping, sloppy grains of noise, with scratching guitar and croaking vocals delivering strange instructions.
This is head-spinning, investigate if you have an hour spare and no mind to lose in the first place.