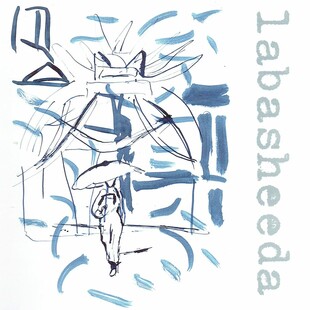 We've taken a listen to Labasheeda before, based in the Netherlands they normally play a pretty ballsy and punchy kind of alt rock that's twisted and noisy.
For this vinyl-only EP, pressed on white 7" they've recorded without a drummer and it explores their more semi-acoustic side. Stripped back, it showcases another side to an already interesting band. A cover of Yoko Ono's Listen, The Snow Is Falling captures the innocence and naivete of the original and could also conjure up elements of Daniel Johnston too at points. The lyrics being as simple as they are means it has a child-like, playful feel.
My Instincts sounds positively grown up following this as a result. Quite complex lyrics and an intimate guitar backing means it's perhaps the most raw of the tracks on offer here.
Black Blood is a re-recording of a song from their debut album Charity Box. Having not heard the original version, this comes as a new experience and has the hallmarks of PJ Harvey in this version. Saskia's voice is allowed to shine at the forefront here and it's a flattering production too.
The brief Different Places is a pleasant diversion too, all plaintive strings and gently plucked guitar for just over a minute. It's certainly miles away from their previous material in terms of presentation, this track almost acting as a segue to the slightly surreal Elastic which plucks away quietly with Saskia's unusual vocals sounding even more beguiling than usual.
It ends abruptly and you are left wondering if this EP is meant to be this brief and jerking. It's likeable, you just wish there was more of it.