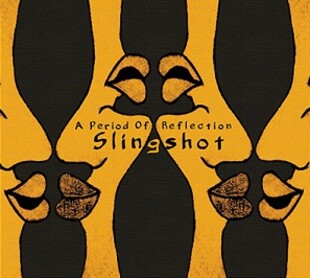 Slingshot are from Vienna and tout themselves as psychedelic heavy blues. The impressions given early into this twelve track long album are of a roughly modelled stoner rock blueprint, but without the full on fuzz of Fu Manchu et al.
Four songs in and it's all a bit hit and miss. The early tracks remind me of Josiah, the respected midlanders who's members have gone on to appear in Dexter Jones... and Cherry Choke, but also a little of Threads, the fun time stoner classic rock post-Khang outfit that enlivened many a Northern gig around 5 years ago or so, without the same pulse.
However it's all hampered by an overzealous vocalist. The singer seems to be chomping at the bit to be let loose with over the top wailing, thankfully restrained in the main so it doesn't dirty the whole package with sub post-grunge connotations or wrongly mark out the crucial first impressions of A Period of Reflection as classic rock naffness.
Slightly remarkably, and thankfully, the album takes a giant leap for the better. The stoner influence becomes more prominent, directly channeling the great Argentinians Los Natas and their desert trance. Insane (of Mary Jane) is the track that not only stops the rot but holds your attention and raises a smile, and as it moves through Pusherman and 42 they head closer to full on Colour Haze wig out grandness, before deflatingly dipping again towards the album's tail.
Promise then, and some really classy songs in the middle section which if it can be built on would mark Slingshot as an outside bet for a potential great future release. The vocals will need to change for that to hold true though - he can sing, let it be said - but for me, he needs to be persuaded to hold it back even more, the gentle rhythms of the Elektrohasch sound best complemented by understated and occasionally sparing vocals.