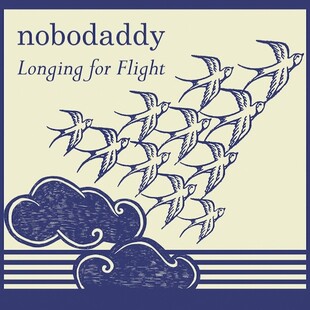 It's about time we had some folk on here, it's been a while.
Nobodaddy are a two-piece from Norwich who seem to have no ambitions of stadium-filling grandeur, but just for telling simple, heartfelt tales.
The acoustic nature of the music allows for some truly emotive vocal harmonies, the kind that hit you like a pin dropping in a silent room. Butterfly is a great example of this, the stark and plaintive guitars trickle like hot butter under some pretty hard-hitting lyrics.
It's all brilliantly lovely, but that's perhaps where Nobodaddy fall short at times here. There's a good lot of distance to go when creating richly inviting stories like they do here, but it can go awfully twee at times too. Darker lyrics to go with the warm and rich vocal delivery would have more impact, but if you want something gentle to drop out of life for a while to, this would be perfect. There's songs here that are clearly sad, but hold no bite, rather bitter reflection like the dour Changes.
There's much to be enjoyed here though, this is music on a lo-fi and micro level, the stripped back folk tropes; guitars and voice combined mean you are likely to pay this your full attention. It will be interesting to chart this duo's progress, both in songwriting and direction.