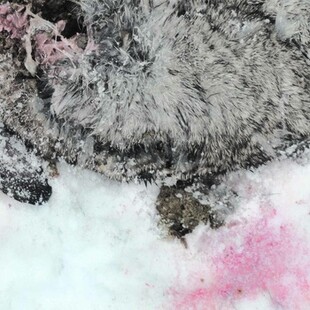 N (30) / [ B O L T ] is a collaboration between two German drone acts who met through being placed on the same bills across the country in recent years.
To explain, N (30) is a solo artist famous for expansive, droning pieces with guitar effects applied to create different textures, while [ B O L T ] are a two-piece/two-bass guitar project who play a doom/drone hybrid. This release places them in tandem and frankly creates something altogether more wholesome and towering.
All three tracks are untitled, which is reflected in the stark cardboard packaging the vinyl comes packaged in. The music then speaks for itself, with the first track of three pulsing with [ B O L T ]'s basslines which create a foundation which N paints across with a sheen of digital and analogue sound that elevates it to almost-noise standards. If you are familiar with the work of Campbell Kneal, particularly his earlier work as Birchville Cat Motel, you'll have an inkling of what is happening here. Other reference points would be the all-encompassing static burn of Matthew Cooper's Eluvium moniker.
The second track comes with more of an organic feel to begin with, guitar chords are picked out with stunning clarity while a soft, organ-like drone takes hold behind. Of course this builds to a startling doom construct that the likes of Sunn0))) have explored ad infinitum, but it still remains terrifying and impressive. All three seems to be channelled in to one another, all three players locked into the same groove and tempo.
This means the track takes off in slow motion, with subtle changes from each contributor waking a section of your brain in stages.
The third and final track comes in at a comparatively short five minutes (the others take around twenty elongated minutes each) and has a somewhat more subdued and contemplative feel. Altogether more ephemeral and passive, it passes with the grace of a nature documentary panning shot, all majestic and dignified. These three should team up more often, with just under an hour of music here they've shown themselves to be creative in extremis.
The LP comes with download codes for nine remixes of the three tracks, including one from Aidan Baker of Nadja and Black Boned Angel fame.
If the 100 copies are not gone already, we'd suggest a purchase.