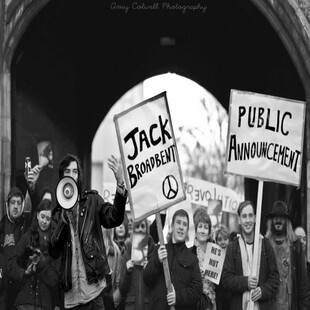 If anyone remembers the introduction to Jack Broadbent posted on here earlier in 2013 then you're in for an early Christmas present...
Jack has been hard at it in the studio since the EP release and has released a full length called Public Announcement. This album has had a teaser video posted online and some considerable hype.
His first album blasts in with a catchy little barn-burner called Been and Gone which features some extensive guitar techniques with Broadbent's signature bar-room vocals and interesting guitar lines.
Next up we've got a track called Revolution, I know, it's a worn out word that's been dragged through time and is still quite prevalent today...this track is where the guitars and harmonica begin to slum it down the alleyways with well-constructed breakdowns and tempo changes.
Plodding in next is Jeffery's Place featuring a catchy riff with lashings of the old gob-iron. Lyrically, the track features, I assume, politically-minded lyrics, if that's not your thing, then fuck it, the riff rules. It's kind of like hearing The Doors and Talking Heads fighting in a shipping container, beautiful.
Limousine is the next track, sounding like Seasick Steve after too many bottles of Moonshine; the vocals have been given a slightly different treatment here, plenty of reverb and grainy guitar lines that lurk in the mix like a child trying to have a go at shoplifting for the first time.
A blast from the EP up next, if you dug this the first time, you'll love it the second time round, What If I Only Had One? is another bar-room stomper that seems to have slightly better mix this time, then again, what does anyone know that didn't hear the rough mixes?
Sold my Soul is the next track, an interesting take on the tired blues cliché, then again, blues guys never sold their souls to setting suns or burning moons...they also didn't give it an old fashioned car-chase bass line or add psychedelic effects over the top either did they? Short and sweet; like a powerful shot of sloe gin.
Mellowing out on the next track, Never Did Know is a track that reflects the name perfectly; the acoustic guitar doesn't seem to know whether it's major or minor. An interesting slide guitar follows behind the acoustics and adds a great dimension.
To introduce the next track, a sample of a strange American guy is played followed by some swift drumming, the track sees Jack Broadbent branching out to the LSD freaks that have no idea what they want to hear. Named Evolution, it does seem to evolve into a strange mash-up of drum and bass with some garage-punk Stratocaster action going through it, around it and beneath it.
The next track is one to make Jack White think about taking up something else, aptly named Just Left My Girl; this is where Broadbent hauls ass again. Downright piercing guitar flavoured with the right amount of fuzz and low fidelity goodness that we all crave so much.
Following next is Luck of Love; this is a Radiohead-esque swinger that really showcases Broadbent's ability as a singer. Clashing lo-fi breakdowns with interesting chord changes and different dynamics make this track perfect for staring out of a window when it's pissing it down.
Don't get too comfy though, the next track called Black Clothes and it is a groovy bastard of a closer. This track features a riff and brings to mind early San Francisco freakouts as well as storming London hipsters tripping their balls off. The same lo-fi production is used here...we wouldn't want it any other way, really, would we?
This is winter listening at its best.
You can see a teaser video for the release here.
You can buy it on iTunes here.
Find out more by visiting Jack's website.