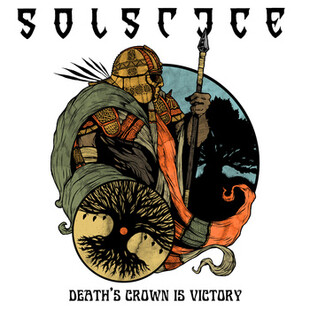 It's good to hear again from Solstice, who return after a long hiatus with this new four-track EP. While their discography may be small, it is of uniformly high quality and this release is no exception.
Fortress England is an atmospheric intro which is the appetiser to the first of the two long tracks here, I Am The Hunter. This song takes no prisoners. In true Solstice tradition there is a strong 'epic' feel to the music, typified by distinctive guitar breaks and a very strident ambience throughout, as befits the title. Solstice is music to ride into battle by and you can definitely imagine doing that to this song, especially given how uncompromising the lyrics are and how galloping the tempo gets. Most importantly the song retains a well-crafted balance of melody and heaviness, with good lead work abounding and plenty of light and shade. It's sometimes hard to write music seriously like this without sounding cheesy, but Solstice avoids this pitfall with ease. Throw the horns, you just have to with a song like this one.
Death's Crown Is Victory is the other epic and perhaps isn't as immediate. It's stately in feel, and has a certain regal air to it – again, the uncompromising lyrics help with this. At first this track seems to drag a bit, but give it time and various nuances and variations start to appear, and the main riff chugs along nicely. Great lead guitar work again – quite a 'windswept' guitar tone, if that makes sense. Love the way it ends too.
Finally there's the closing instrumental, Aequinoctium II which is short but very sweet indeed – just three minutes of great, epic riffage which is the perfect coda to the record and brings to my mind various epic images – mountains in the clouds, a king on his throne, the high hall of a Viking feast, a line of soldiers guarding a hillfort – and also has a certain wistfulness to it, of past glories and triumphs now passed into history. To be honest I wish this song was two or three times as long as it's just fantastic.
The band has changed from the last time round and only mainman and guitarist Rich Walker is left, it's his band anyway and always has been. The musicians are all great, although it took me some time to get used to the vocals, which are a bit more forthright on than other Solstice releases. At first they put me off as I found them somewhat over-serious and pompous, but with repeated listens this becomes much less of an issue.
Great artwork as well, which fits the mood of the album very well. Hopefully it's not going to be too long before the next release by these guys, as they can nail an 'epic' sound in a way not many other bands can. Recommended for anyone who likes proper, old-school, epic heavy metal.