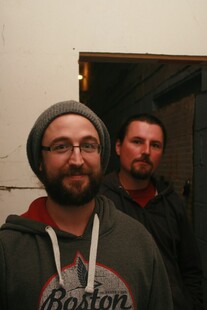 Hiram are another one of the fantastic local acts you can catch at the upcoming homemade event on Saturday November 30th. We caught up with Bing (guitar/vocals) and John (drums) from the band to find out what you can expect and how they are coping as a newly-reduced three-piece after the departure of long-term guitarist Greg this year.
9hz: Hi, so simple one first, when did Hiram form and what was the idea behind it?
Bing: We started in 2002 after our old band Bodybug came to an end, it was a shit name anyway, but the music has stayed the same, heavy. We wanted it to be about having no pressure to gig or play live.
John: The point actually was just not to play live.
Bing: But you can hear Bodybug within Hiram, just a better version of it! Mind you that said, you can't polish a turd…
9hz: What are your influences?
Bing: We all like the same kind of music. I think a band will come along now and again and we'll all go WOW! Neurosis around Times of Grace was one of those that just blew us all away for sure. We all got into proggy stuff like King Crimson around the same time too.
John: We've broadened our taste as time has gone on too, we don't just listen to metal, we listen to more melodic stuff now too.
Bing: Yeah, you get older and tend to want to hear something more melodic. That said, we are always anxious to say we are a metal band. We made a decision not to sound too doomy or sludgey, to try and avoid pigeonholing.
9hz: So with the focus on more studio time than live performance, have you actually ended up gigging much?
Bing: No! No more than twenty I guess.
John: Maybe around ten…
Bing: We want to remedy that though, the project for the next ten years is actually to play live and get good at that. In my head at the start it was all stadiums, ziplines to the stage but now my hope is that we can maybe play one gig a year in Amsterdam. That would be great. Me and John have played together in bands since 1999/2000 and since Greg left earlier this year we've been stripped down to a three piece. We're proud of sticking at it and when you play a good show that's what makes it worth it.
9hz: With that in mind, what can people expect from your set on the 30th?
Bing: Well we've not played live as a three-piece, when we were asked to play it was kind of the period as Greg was leaving, where he was moving stuff out of the room so to be asked gave us something to aim for, like, right! We are doing this gig!
I think the set will be less of a dirge, the nuance of the music will probably come out a bit more. Being used to two guitars behind you is something we're going to have to get used to. The bassist has had to really step up a bit. At first we were gutted but it's now becoming just a new project for us to focus on. Until you are in a situation like this you don't think about it. Now we need to be able to nail every riff, we can't do some of the older material, it's just not possible. 'Reparation' off the latest album for example is one where there's too many parts.
I guess change has to happen, you start off when you're a kid wanting to be Ediie Van Halen or whoever then discover what it is you actually can do.
John: We've always seen the band as a project, so this is the next thing I suppose.
Bing: If you execute the ideas you have it really becomes something. I don't always have a song in my head, I'll have one riff and it's that process, that building up that we enjoy.
Hiram are playing at homemade on Saturday 30th November.