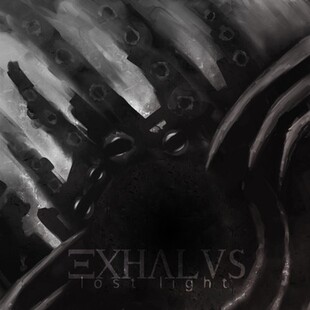 Exhalus are a dark proposition from Romania. With a mix of dark, ambient drone sounds colliding with a doom-esque tinge, Lost Light certainly rolls into bleak territory.
There's symphonic elements at play here, evoking the memory of early My Dying Bride. The simple, but classical-sounding guitar parts wind themselves goth-like against a backdrop of chugs and chiming riffs to create a dense, smoke-filled atmosphere.
But that's sadly where it leaves you. There's no journey to be made here, simply a floating in space, with a stark, unbending road stretching out in front of you.
Unravelling uses staccato stabs and sounds like the repetitive sounds Trent Reznor used to soundtrack the original Quake on PC. Even when the drums come in, this seems clunky and unfocused, but could just be the manner in which they want to present the music, difficult and cumbersome.
A Mantle of Failure continues the undeveloped ideas further, never really reaching eithera tumultuous drone or a specified point. Similarly, Closer Apart sounds unrefined and ill-thought out.
The blurb that accompanies the release states: "After a long silence, Exhalus is back with raw drones and sounds vaguely resembling music. Unapologetically grimy, this bleak EP is the faltering expression of hope decayed." and remains an accurate summing up of the sounds found within.
Odd and not engaging at all. The bare bones are there, but flesh is sadly lacking.