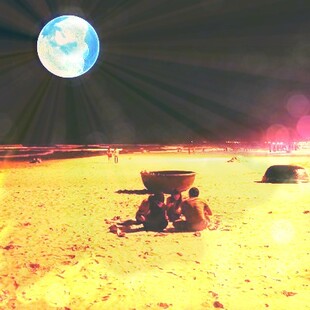 London's Poeticat are a puzzling proposition. From their background on paper, you'd probably think you'd know what it sounds like.
Coming from the same scene that has spawned Kate Nash, The Macabees and Scroobius Pip, there's elements of all of those bands here. That lilting, posh London accent is dominant in Catherine Martindale's delivery and she even evokes Scroobius Pip's earnest phrasing and sense of urgency. Apparently a veteran of poetry and spoken word nights, her storytelling gets very microcosmic at times, during Centre of the Concrete Square she jumps from lines like ... the tips of your eyelashes are blonde to ...My father never knew that if he shouted at the prime minister on telly/I'd grow up to be a socialist poet.
This is all backed by a band with no obvious influence, released as a double A-side, you can see why they didn't want to favour one track over another. Kind Words Soft Kill evokes the overblown intro to Spinal Tap's Stonehenge but it's about as far away from comedy as it comes. The earnest lyrics and the way it then transforms into a moonlit run into the mountains complete with subtle percussion.
Now and again, we're sent something totally unique. This is one of those instances. I'd urge a listen, it's a glimpse into a set of seemingly insanely creative minds.