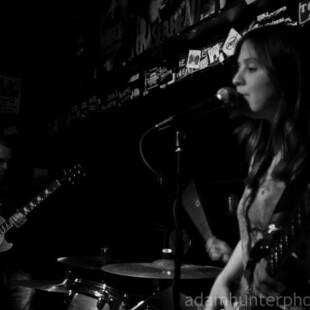 I can draw a lot of parallels between my approach to this review and my feelings about this record.
Hesitantly, I'll admit, this is my first concerted attempt at writing a music review. I've dabbled before and of course, I feel I can command the English language in a relatively expressive manner, but the naive desire to prove my steel has seen my my gut reaction long suppressed and with it, natural flow and lucidity. It's all become contrived and convoluted, my newcomers eager enthusiasm had shrivelled. I'm now fed up and merely want to bang it out and retreat for some time to lick my wounded pride.
The same nervous anxiety and exhausted enthusiasm is what silently screams through the music at me from these five tracks, by the Swansea Quartet. All the component parts are there, they have the makings of a good record; the playing is solid, song writing competent and at times quite interesting, but what it lacks, is immediacy and conviction in delivery. The sonic palette swings between what feels like radio friendly androgynous 'Rock' and 90's alt rock, with a smattering of interesting progressive riffage. Buried within the twenty or so minutes, there are a few gems, such as the chorus of Snake Smoke and the intricate and subtle middle section of Moa.
The production conveys the bands newness as a functioning unit. Too polite and polished, sucking out the feeling of the emotional connection and interaction of a more seasoned and better acquainted group of musicians. The controlling hands of the engineer have inserted the cold rod of ridged and sterilised functionality, put in place to compensate for the deficiency of inexperience. Symptoms show as; solid guitar playing diminished by stifled tone, vocals that tell of off the boil takes and the drums and bass sit back in the mix fulfilling their purpose, yet feel stilted and mechanical.
Despite the disparity between the literary persona (the name alone mis-sells the band, let alone a badly judged tag line of 'Sultry Slag Rock') and the musical content and it's presentation, there is a solid foundation here. Once you get beyond the initial feelings of a dubious sense of identity, I can hear the seeds of good material.
At the foundations, these guys make good music. With more time will come conviction and authenticity in delivery and presentation.