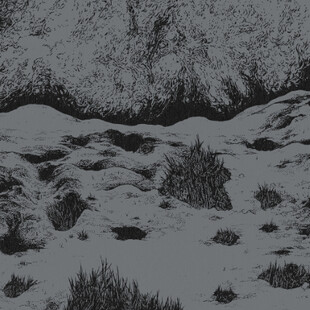 This is an ambient and exploratory split 7" from two solo artists from the states. After two weekends on the beer, this is welcome. Sometimes all you need is the lone droning of someone who spends far too much time alone to wash over you and feel cleansing and that's exactly what you get here.
John Kolodij otherwise known as New High aura'd, top marks for getting punctuation into a band name by the way, takes a gradual, listless approach to his work. His track Remain In Light (is that a Talking Heads reference?) meanders from barely-there breathing drone material to a full-on spiritual cleansing moment and genuinely impresses. Five minutes however is just not enough though.
His opposite number on this release is Reuben Sawyer and friends. Grown out of a solo project from 2010, Reuben gathers small pockets of talent together to jam out what appears to be peaceful excerpts of calm. Plodding bass and laid back drums leave space for pastoral sounding guitars with an eastern influence wash over the top. It's a little bit like a more slow and deliberate Six Organs of Admittance if they took a breath and left the noodling at arms length. Also recalls elements of the great Pontiak who have put some fantastic stuff out of this nature via Thrill Jockey. Liking this side a lot.
Limited to 250 mint green records in a gorgeous screen-printed black card double wallet thing, it's one to keep for posterity as well as the music contained. A success.