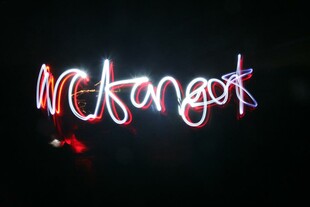 ArcTanGent, named after the Earthtone9 album, is a brand new festival just a short drive from Bristol. From the organisers of 2000 Trees, an indie-heavy but still slightly left-of-centre festival it positions itself as a post rock heavy festival with folk and alternative stuff thrown in for good measure. With just 3000 tickets, it was an intimate affair, but one that truly felt vital.
I'm honestly not overstating things when I say it was the most pleasant festival I've ever been to. The open nature of the campsites and stage areas meant freely wandering from one area to another was great. The complete lack of your beer and tops-off lad festival-goer also meant a friendly atmosphere full of genuine music fans but at the same time, not snobbish or elitist. The local Somerset cider and real ale also helped and a special mention must go to Pie Minister, purely for the name, but their pies were incredible too.
Onto the music then…
THURSDAY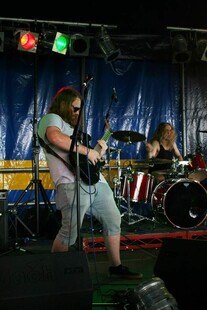 Early bird ticket holders were treated to a relaxed and quieter night of music, but that didn't stop the night being kicked off in memorable style as MEMORY OF ELEPHANTS took to the stage, the sun still shining and their triumphant sound lifting spirits almost immediately. The Bill Bailey-esque bassist in his shades looking as if he was really enjoying himself.
ALRIGHT THE CAPTAIN were a last-minute addition thanks to POHL dropping out last minute. The three-piece play with a relaxed and confident way, but sound as if for all the world like they are breaking down calculus.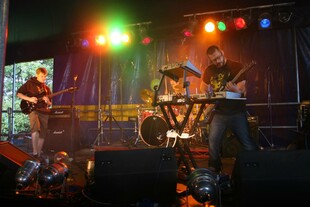 Effects clash with unusual time signatures and there's elements of chiptunes in there somewhere to make it sound like a malfunctioning dot matrix printer is up there on stage with them, simply stunning. They are one band that have stayed with me since the Thursday night, which is saying something from the sheer number of bands on.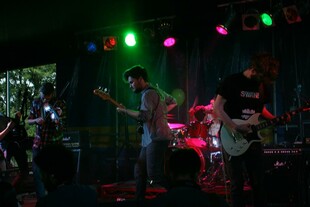 Someone shouts in my ear that TALONS are sickeningly young and talented. Didn't stop me liking Rolo Tomassi back in the day and doesn't stop me now. Age doesn't even come into your mind when you hear post rock this ebullient and striking. Intricate noodlings combine with simplistic strings to create an uplifting sound that the crowd is lapping up. Throughout the festival you hear bands remarking that people are screaming power chords back to instrumental bands and actually clapping in time. It's truly odd to be at a festival with so many like-minded people and the bands are feeding off this enthusiasm every time it happens. There's boos when the band have to leave the stage. To be fair, they could have played all night.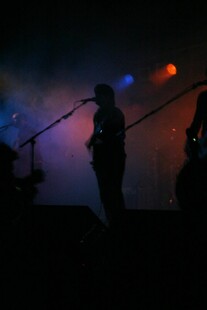 AMPLIFIER are an embarrassment frankly. Didn't quite understand why they were on the bill anyway but to stand and bore an audience with an extended and awkward soundcheck this late at night is pretty poor form. To then give good-natured audience members chanting for them to play a song the finger is unforgivable and it puts me off their music before they even start around 25 minutes or more late.
When they do eventually start, it's dull, dated and wandering off to eat donuts seems like a better option. The only band I genuinely didn't enjoy at all over the weekend. Shame.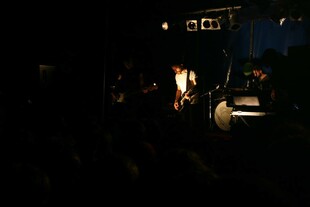 MAYBSHEWILL then leap onto stage like heroes, the fans having voted for the setlist. Although I'm not overly familiar with their material, their slowly-building but twisting and ambitious crescendos are a perfect end to a mixed bill and there's even a pit of sorts. This is strange to witness, people kicking off to the heavier parts like they were watching a 90s hardcore band is surprising as it is entertaining. The crowd has also swelled to tent-bursting proportions, so their popularity is confirmed too.
FRIDAY
Friday feels like Saturday but regardless, THE NATURALS kick off with their inoffensive and light take on instrumental noodling. They impress, but it might be too early for many as the crowd is sparse and still waking up. Check them out though, they made pleasant noises.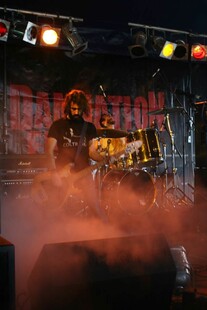 MANATEES do their best to knock everyone's heads off once again and I'm still constantly amazed how much noise they make for a three-piece. As crushing as it is loud, guitarist Greg always looks like playing is like handling an industrial road drill and the sounds created match his screwed-up face. Bassist Alex and drummer Pauley also do their best steamroller impressions and the mix of material on offer spans repetitive Swans-esque sections of punishment and vocalised and sleazy sections too. Don't think they've played together in a while but you really wouldn't know.
Leeds' favourite sons HUMANFLY sound on fire, their progressive and psychedelic leanings mean their songs are sprawling but remain captivating and snap your brain into paying attention with arresting twists and turns. There's some epic axe hero stances happening here too, always a plus.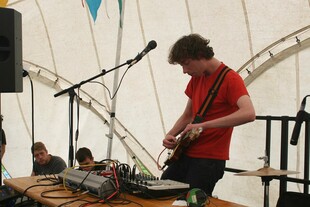 A brief expedition to the smallest stage and tent to see SJ ESAU is totally worth it. A gangly solo act, Mr Esau has songs about his cat among others and his loops and pops sound great in the afternoon sun. He trips over his loop system occasionally but manages to keep the crowd on his side. I've wanted to see him live since hearing an album about five years ago so glad to catch him among such diverse surroundings.
YOU SLUT! Have packed out the Bixler tent so much you can't get in to see them, but splayed on the grass outside they sound great. Pretty manic and with time signatures flying this way and that the reactions of the crowd mirror the energy being exerted inside.
To the main stage again and YNDI HALDA are playing their established and somewhat hi-brow take on post rock. With strings and some truly euphoric moments, they leave me with goose-pimples. The violin player has such a thousand yard stare though that I fear he might want to kill someone. Maybe it's just his concentration face though.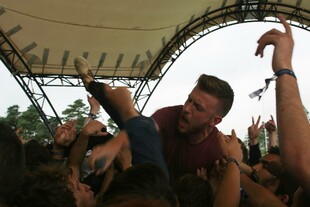 I haven't seen ROLO TOMASSI live since 2008 to my shame. Always incredible back then they've only gone and got better. Looking older (like they would) they explode onto the stage all bouncing energy and familiar twists and turns. Their music has moved from simply spazzy grinding blasts into full-borne modern hardcore classics. Singer Eva still throws herself about and goes all snake-hipped for the quieter sections and James still treats his keyboards as an exercise bar between strangulated screams. New material stands proud alongside the old stuff like Empiresque easily and by the time James has jumped into the crowd to ram the microphone into people's delighted faces it's chaos. I need to sort out listening to their latest stuff and urge you to as well.
We sit back at the campsite to listen to the second MAYBESHEWILL set of the weekend and it's a similarly fantastic set, but really nice to hear it laid back with a beer on some green grass. Can this last forever please?
A quick stop off at the Bixler stage to catch the Rolo Tomassi bassist's other band BRONTIDE plying their motorik and clinical wares to a baying crowd is diverting but ultimately a bit too clean for my tastes.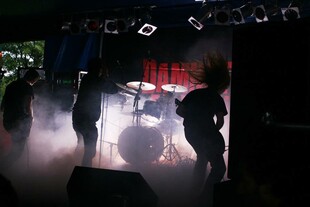 This is addressed almost immediately by the stark, screeching feedback of DRAGGED INTO SUNLIGHT who take to the Damnation Festival-endorsed Yokai stage. Swathed in strobes and with a goat skull adorning an ornate candelabra, the band face resolutely backwards towards the drummer as if invoking demons from their stacks. The mix of hanging doom chords and sections of frenetic blastbeat-ridden black metal gives it a dark and depressing air. Cloaked for the most part by fog, you can make out the hunched vocalist and the guitarists wielding their instruments as if offering them up to evil deities. The strobe and fog gives it a dark and depressing look despite the sun shining outside. Truly a festival highlight and one to catch indoors next time too.
FUTURE OF THE LEFT are frankly too quirky for their own good after DIS's dark set and I find myself simply watching their chaotic post-hardcore songs with little interest. They are fantastic, but to follow up black metal with something so damn cheerful feels wrong. They stay on stage until they are forced off, which is a good sign I guess.
I catch EARTHTONE9's set from a distance, the majority of their set is the album after which the festival is named and there's a suitably large crowd baying for the classics. What you notice is their cool, effortless delivery and Karl's voice sounding as good as ever. But what's also there is that whisp of nu-metal bounce remaining in some of the riffs. If they are back for good, of which I'm unsure, they need to curb that to sound relevant these days. Otherwise it's a great set and the crowd are screaming along with the heavier parts too. Nice.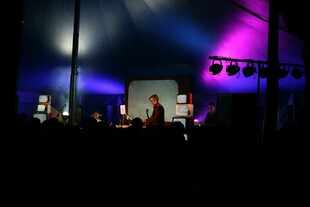 PUBLIC SERVICE BROADCASTING are just great, danceable instrumental music with oodles of stock footage and samples? Yes please. They look for all the world like Geography teachers let loose for the weekend but then when is that a bad thing? All three are in suitably geeky suits and ties and the retro telly set they have is perfect for their archivist ways. The footage suits what they are playing too and they have even got several old tellies on stage with them, mirroring the images being projected above. Need to catch these chaps again soon.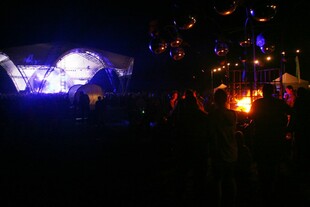 65DAYSOFSTATIC are best observed from a distance tonight so that's what we do. As the bonfires are lit, sitting on a bench observing the ARC stage from a distance is a revelation. Despite the best efforts of a drunk guy talking at us for their entire set, 65 manage to soundtrack the ARC stage looking like a giant spaceship that's just touched down. The lights extend far into the black sky and a mix of more urgent early material stands proud alongside the more dance-informed new stuff. A perfect way to end a day packed with interesting, intelligent bands, fuck.
SATURDAY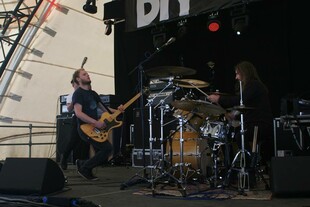 ANTA kick off proceedings on the main ARC stage on Saturday to a growing crowd rubbing their eyes and getting started on the ale. With a bassist who plays his axe like a weapon and grimaces throughout, their intense and stomping instrumental sojourns sound great first thing. Drummers with gongs should always be commended too and by the end of their set the crowd is lapping it up. To sound this epic at around noon to hung over ears is an achievement, top marks.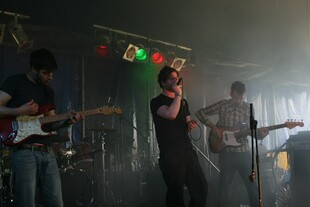 CAULS are a calmer aspect to what I was expecting, their stage presence is minimal, with the music doing the talking. It moves incredibly slowly and without much incident. The highlight appears to be the singer makes animal noises but it's all a bit Jonathan Davis to me. Oddly quiet crowd as well.
Thank fuck for DELTA SLEEP then, with world music influences creeping into their delicate and uplifting post rock, it's a pleasure to see them dominate the ARC stage. One of the few bands today with vocals, it's a great example of when post rock really opens up to the listener and chills them to the bone. Really impressed with these guys and totally suited to the blazing hot skies that have appeared.
A trip to the Bixler tent means HYSTERICAL INJURY are already ploughing their way through a garage rock and shoegaze-tinged set. Just a drummer and a rather beguiling female bassist and singer, they have a stomp and energy to them that's been missing from some bands due to the subtle nature of the genres on offer so it's great to see people throwing themselves around the stage. The dreamy shoegaze element is also a great contrast to the summer festival vibe that seems to float over this whole event, laid back and pretty life-affirming.
I've wanted to see THE PIRATE SHIP QUINTET for years, having loved their first EP for ages it's great to see their delicate yet strident music in the flesh. Cello sits centre-stage while the rest of the band create a vortex of delay and crescendo behind. Also, should mention the fantastic vocal mic placement. Imagine Lemmy's downward-pointing stand, but elevated so that the two guitarists have to strain on tiptoes to scream into it from a distance, giving it a muffled, yet strained sound. Amazing to watch and again, a shiver down the spine moment.
VESSELS are very talented, let's be clear here. However their music is like concrete, grey and unchanging. I find it hard to watch for more than ten minutes and retire to watch them from the field where they continue their guitar histrionics wrapped in an electronica sheen to a rapt audience. Sorry, just don't get it.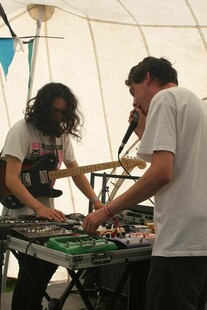 GIANT SWAN are like a baby Fuck Buttons but with a more afrobeat or world music feel. Their pedalboard messing has a drone element to it as well but really comes alive when they tease out a beat. Both players are facing each other and seem to be feeding off each other's samples and loops, which is great to witness as it comes to a head. They mumble their thanks and walk off, great!
UPCDOWNC meanwhile are contorting themselves sweaty on the Yokai stage, ripping the audience in half with their loud, electronics via guitar workouts. Riffs move logically but that's no bad thing as the payoffs are massive, love it. The incredible drum tattoo from three of the band is also mesmerising, more group drumming in post rock I say.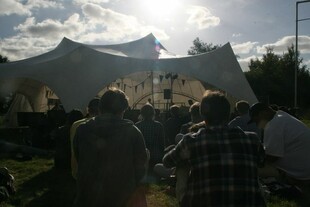 We head out to the tiny PX3 stage again to sit in the sun and watch HOWARD JAMES KENNY. Seemingly a local guy, he creates lazy loops and delicate melodies and double tracks his voice while the heat is cranked up. It's another really relaxed break from the relentless guitar bands on show and his cover of Teardrop is one of the most delicate I think I've ever heard.
THREE TRAPPED TIGERS snap things back into loud and proud next on the main stage. Their drummer could probably power a small helicopter he's that much of a dervish and the dual keyboards and samples threaten to take off in a similar manner. It's all controlled chaos though and recent high-end tours are obviously meaning this is a live act to contend with. Opening with the excellent Cramm was inspired and the rest of the set is a million notes a second joyfest.
Stepping into the dark recesses of the Bixler stage for NORDIC GIANTS is another experience entirely seperate from the rest of the festival. The Brighton duo and their accompanying vocalist do their best to break you down emotionally and succeed in part (several people are seen in tears after their set). Imagine if you will some incredibly moving short films projected while the most gentle, understated music is played by two spindly guys in warpaint and covered in feathers and an occasional female vocalist elegantly stepping in, resplendent in a feather head dress making achingly beautiful sounds. Words cannot really do it justice, it's utterly profound.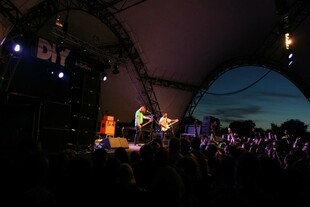 Thinking nothing could top this, I underestimated AND SO I WATCH YOU FROM AFAR and their ability to take over any slot they are given. Playing almost the busiest set of the weekend, their jerky and relentless style has the crowd going batshit. The band themselves seem genuinely bowled over, thanking the fans profusely throughout. A real highlight is Sleaford/Lincoln band Bear Makes Ninja's drummer Karina Lawrence playing on S is For Salamander pretty much nailing it.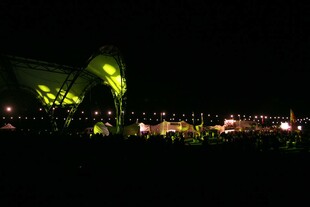 FUCK BUTTONS close the festival and are just phenomenal. The pair simply stand over their desks and get on with it, their silhouettes making up the majority of their projections and light show with colours and textures shifting around them. Ramping up the volume and static at points means a heightened sense of delight that's tanglble in the crowd.
A fitting end to one of the most unique and exciting live spectacles I've witnessed in a long time. 2014 has a lot to live up to, simply breath-taking.