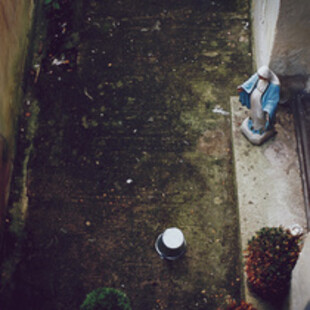 The first time I saw Palehorse play live, a full ten years ago now, it was a performance of such eccentric novelty, coupled with a sense of unrelenting terror and unease, that it took on something of a legendary status in our collective memory.
Since then, this rag-tag band of horrid, bass-toting Londoners have become one of the true survivors, the ever-turning cogs of the underground that keep the rest of us in awe at their resilience and commitment to their horribly, noisy cause.
Harm Starts Here is their fourth record, (although strictly their third full-length), their first on 'metal major' Candlelight, a decade and a year on from the earthquaking, bowel-stretcher that was Gee, That Ain't Swell.
Every Palehorse release, coming as they do at least three years apart, seems to hail a new line-up change. From the four-piece that recorded 2010's coruscating Soft As Butter, Hard As Ice, they have swollen their ranks once more with the addition of Mark, formerly of Trencher,, who, if you've ever listened to Trencher, seems to have brought a metric ton of swampy synth noise with him. It's this that marks Harm Starts Here out as perhaps the band's most eclectic offering.
What Is Wrong With You People? kicks matters off in fine form with a spindly clean riff that's almost jazz-like over Ben Dawson's ever-impressive paradiddling snare rolls. Nikolai's demented vocals (an overused term perhaps, but absolutely fitting in this context) often bear no relation to the music, weaving in and out and layering up over the distorted chaos beneath – I say beneath, they're a lot lower in the mix this time around, which only adds to the claustrophobic noisiness. Lyrically, it's another full on hate-fest, coming across like a sociopath speaking in tongues; the stand-out Don't Bitch My Shit seems to be taking aim at Andy McNab – 'Andy, I've read your books' - though I could be wrong.
Full Power Anglo Gambian Rinseout does almost exactly what it says on the tin, beginning with the barely intelligible ravings of an African-sounding street-evangelist over a single, ear-puncturing bass drum. But melody can be found amid the driving low frequencies – the affected synth lines work well amid the squalls (particularly on the intro to Skin Flick) and with the impassioned vocal delivery, you could almost describe Palehorse as a kind of negative emo. Maybe that's going too far, although one track even features Ben Dawson's former Million Dead bandmate-turned-folk-superstar Frank Turner.
Harm Starts Here is another astonishing, at times breathtakingly unique kick in the teeth from the saliva-swabbed back allies of Sahf Lahndahn, that upholds the band's grievous tradition across 7 dirt-encrusted hate songs. Long may they reign.
PS. My only complaint is the lack of handwritten liner notes (blame Candlelight?), which interrupts an otherwise flawless artistic continuation!