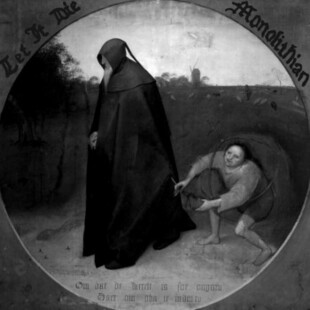 Pairing wine with food is about as pretentious as matching stuff up gets.
"This deep red Burgundy goes well with this game pigeon doesn't it?"
"Oh yes Nathaniel, and what a lovely dessert wine we have lined up for you later too!"
Yeah if I ever start seriously saying stuff like that, take me out the back and put some lead into my face please. Anyway, matching up sounds is much more interesting and the paint-stripping sounds of Let It Die chime perfectly with the more slavering doom of Monolitian on this slab of heavy wax.
We've jizzed ourselves limp over Let It Die on this site before, but you cannot listen to them and not feel like you're being scorched or assaulted in some way. The gritted-teeth vocal delivery from singer, Red, sounds like an animal being stepped on and the pitch of the whistling feedback gives it a real sense of menace. Bands like Nails try this approach but forget to add dynamics, so it's nice to hear some chop and change in LID's sound. The drummer's a real skin-tickler too so there's plenty to grab your attention from the off.
Monolithian are a two-piece keen on crusting up doom for all it's worth. Steeped in a guitar tone you'll feel right in your chest, the Cornish two-piece take any pre-conceived notion of how peaceful their county might be and throttle it. Among the riffs, there's some subtleties that will maintain your interest, managing to make their side of the 7" seems short with one, four-minute dirge. It speeds up to crusty paces towards the end and the vocals sound as if demons with stretched faces and evil intent are looming out the speakers.
Available on Moshtache Records and Skin & Bones Records you'd be a fool to miss this one, limited as it is to 300 copies.