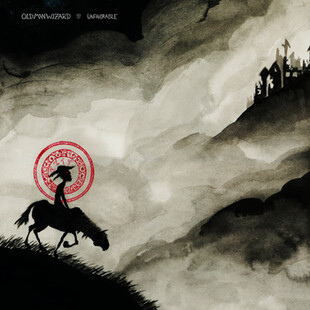 Old Man Wizard are from Southern California, but for that geographical fact, they sound as if they should hail from Germany, such is the pomp and largeness of style.
Apparently popular within the doom scene round their parts, you could probably find Timo Kotipelto solo albums among the St Vitus and Black Sabbath in their collective record collections.
Opener Highwayman is a thundering, galloping piece that could even be the American cousin of Adam and the Ants Stand And Deliver even down to the pop-esque percussion in sections. The use of choral backing vocals means it is given a power metal finish and you'd be forgiven for thinking that their market was the swords in the air and ironclad brigade on first listen. I imagine this takes on a life of its own live, with many a pose being struck to match the pomp of the songs in general.
If Only could well be the soundtrack to the next edition of the Dragonage series of viedo games. It has that folk touch to it, acoustic guitar and vocals dominate and there's hints of Blackwater Park era Opeth here too, which is no bad thing.
Lyrics here tell a story, all legendary and full of portents but the production overall lets the release down. Not distorted or dynamic enough when they head into heavier climes, it all feels flat and on one level. The drums clatter away to great enthusiasm, but with no impact or difference from quieter sections to more involved periods it just falls short of being engaging or exciting.
It's one to keep an eye on, you'll no doubt be hearing more from them in the future.