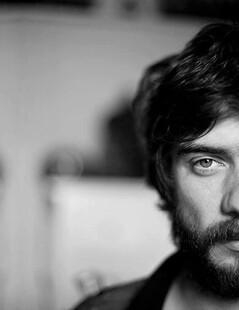 How many of you reading this, dig the blues?
I'm not talking about Kyuss and the red sun variety; I refer to the pioneers of the genre that defines everything that we listen to today. Howlin' Wolf? Mississippi John Hurt? Son House? Leadbelly? If these names are foreign to you, then seek and listen. Then read on...
A few weeks back I was alerted to a video that was slowly making the rounds among some of the legends in their field, notably Dave Anderson, owner of the legendary Foel Studios, had Lemmy's job before Lemmy in Hawkwind and current bass player in the Groundhogs. A video was posted by Dave of a dude playing some of the most badass slide guitar you have ever seen.
The video depicted Jack Broadbent ripping away on his acoustic guitar using a small hip-flask as a slide, all this through a small buskers amp to people watching in amazement at his dexterity and diversity of slide styles that echo all the best parts of Ry Cooder, Rory Gallagher and Muddy Waters.
After seeing the video and re-watching it four times, I got in touch with Jack via his Facebook page and enquired about a demo which duly arrived for my weekly commute/demo listening.
Self funded, this debut is an interesting mix of pure slide genius for 2013 and onwards, the rest of the EP is jammed with an eclectic mix of song-writing and sonic-blues. This type of music is still as underground as it ever was and the first track off the EP will keep you going for decades.
Track one, unnamed on the CD, features Jack jamming like a nitro-powered missile, no vocals are present but he has the finest style when it comes to accuracy on this one. Perfect for driving, smoking, playing cards and more possibly best for drinking good whiskey in the sun.
As the first jam sinks into its own swamp of blues after 17 minutes of gold, the track to follow next is a slight variation; this is a familiar blues formula here that has seen the likes of Canned Heat making their lives on it. What sets Broadbent apart in these instances is the use of his short and sharp songs with roughened up vocals, tight guitar solo stab into the middle of them like a pig being slaughtered.
Varied yet again with a track named Heat of the Night which seems to blend the Butterfield Blues Band as well as all those dreamy 60's acoustic tracks that have been worshipped ever since the first Jefferson Airplane flight...
Floating along on the vocals into different textures and breaks, the track carries itself into loose jams with drums that scatter themselves into an almost jazz territory.
Up next, A Zippo lighter is popped open and the harmonica makes it entrance...this has always been a difficult thing to get right when used in a band situation. If it sounds too clean, you're fucked. Named 'What if I only had one' Luckily Jack has got this one as dirty as tramps on a bouncy castle. The harp bends and screeches its way into the track like a brick through a window, the harp overshadows the whole track, perfect for blues.
The next track is a cheeky little Hendrix style solo blues, clocking in at around 40 seconds; you can't actually afford to miss it. Featuring quieter vocals than previous tracks, this is a somewhat imbalanced ending to an EP that has a monumental first track, but then still, at least you know when to press play again.
Jack Broadbent is worth checking out this level of talent is seldom seen, his recent performance at the legendary Maryport blues festival have gone down like a fine steak.
Check out Jack's website here, his music is also available on iTunes.