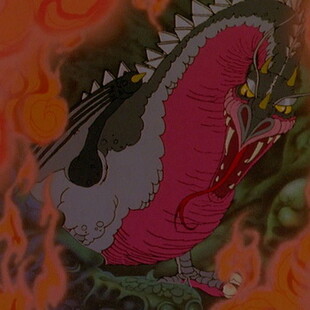 I'm really drawn to the idea of a band doing a nocturnal side project at the recording studio- especially when its professional Scottish doomsters Ommadon.
Creating this fuzzy, reverberating dark ambient after hours drone as another The Flight of Dragons character 'Bryagh' a brother beast where "All recordings are completely live and improvised through the night."
The perfectly entitled Embracing the Shadow comes across as sinister and furtive as well as unrestrained and interesting. It is quite a long (album length) three track release, which starts off with the ominous and eerie Entering Darkness drawing the listener in to Bryagh's black mass with swirls of feedback and a low end drone… is there vocals in there somewhere? Not sure, the percussion builds. It's a really engaging improv piece and would for certain be really immersive live.
The shortest and most explosive track (at fourteen minutes) Illusion of Hope erupts with a blast of off-kilter percussion about seven minutes in and has this malevolent loudness throughout. The final track The Battle Commences (another great name) builds the feedback and drone until huge pummelling doom happens and after a good three quarters of an hour of ambient drone, is hugely powerful and brings the heaviness.
As a whole this record works fantastically well and I'm convinced will be really positively received by ninehertz readers- that killer combo of experimental ambient drone and heavy as fuck doom. Great (simple) concept fantastically and excitingly executed, very impressed.