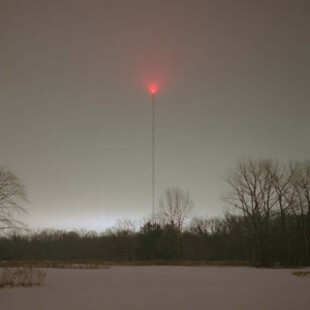 The weirdly appropriately entitled "Make All The Hell Of Dark Metal Bright" by Chi-town instrumental trio Kwaidan is quite honestly the best record I've heard in years in the crazy world of 'drone'. Dear readers of Ninehertz may recognise the players, Andre Foisy, serial collaborator and guitarist in Relapse Records' post-rock BM noise doomsters Locrian, Zelienople's percussionist Mike Weiss and synths from Neil Jendon.
This record is (de)constructed into two sections; the first three tracks, a triptych under the Three empty rooms of light and space banner a dense, maximal, unrelenting avant garde pulsating post-rock freak-out, the noise sculpturally filling the 'empty room' alluded to in the title. Side B is like an 'interzone', it has a lo-fi raw edge and uses reverb'd out piano and guitar invoking a haunting dark ambient craziness. It's like the soundtrack to a weekend on mushrooms in the Pterodactyl aviary in Jurassic Park 3 but shot like Cannibal Holocaust.
The percussion is absolutely mind-blowing throughout; it carries the whole thing- from grossly malformed cymbal clatters to an almost shamanic mesmerising thud. The percussion is always there too, ever present ticking away in the background.
Even if you have a passing interest in post-rock or drone, or are into bands like Mogwai and 65 Days of Static I'd give this a listen as although it comes across as 'gallery' and quite highbrow, it's in fact, pretty accessible, the musicianship is fantastic and it really takes you somewhere. Kwaidan are also incredibly well rehearsed and cohesive considering this is their first release. Very impressive, I am absolutely in awe of this record.