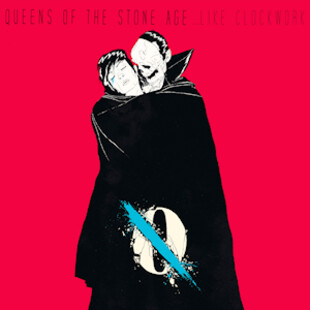 After 6 long years, two children, one other band, a reissue of his debut masterpiece and some horrendous surgery, Josh 'The ginger Elvis' Homme has returned with another Queens of the Stone Age record.
Many fans got a few teasers for the release online, odd videos, creepy voicemail services, strange artwork and bizarre animation. The earliest reviews were leaked prior to the actual release with the Guardian and the Independent running them alongside interviews with Homme himself, many of these kissed arse so much that it felt like Nick Kent was back in the room.
...Like Clockwork has finally been made available for all to buy and steal, the artwork of the album, reminiscent of Songs for the Deaf has a modern spin on a Bela Lugosi image from times gone by, this has been doctored by UK artist 'Boneface' who has become the band's new friend. Personally, I think that the artwork doesn't do the record justice and seems a little par-baked when compared with 2007's Era Vulgaris.
The album kicks off with 'Keep your eyes peeled' which scratches the eardrum in anticipation then vomits a foul-smelling bassline that you can't help but fall in love with. It has the right blend of Queens-oddity as well as bone-shaking power. The track has darkened lyrics with a superb take on a phrase that has made me think about actually peeling my own eyeballs.
Next up, is a track that was premiered on Later with Jools... which, disappointingly further cemented millions of middle-aged fans for Josh and the boys. I guess that it was bound to happen, this is not a band to be an individual about, 'liking' Queens of the Stone Age in 2013 is not a social statement.
I digress, my apologies, 'I sat by the ocean' is the track in question, forming probably the most parent-friendly-rock track on the album, this will probably be one to skip as it turns out to sound like an Arctic Monkey's B-side...go figure.
One big factor in this record and the QOTSA history is the still-warm drum stool that was vacated by Joey Castillo, there is no bullshit or gossip with that one, they parted company and they are still friends. He plays on the first three tracks of the album.
Next up is the first of the rhinestones that are stuck firmly in the ...Like Clockwork jumpsuit, 'The Vampyre of Time and Memory'. This one creeps in with gentle piano playing followed by riffs and the ever harmonic Josh Homme really giving his vocals a chance to shine. It's an odd thing to have heard Homme come more and more out of his shell with vocals since the QOTSA debut release back in 1998.
'If I had a Tail' screams in next, this one is a definite download if you don't already own it, featuring Arctic Monkey numero uno, Alex Turner, this track has all the right Queens flavours going on, possibly due to Nick Oliveri and Mark Lanegan guest-appearing. This track features bizarre, Polka-style guitar solos and curious production qualities...nice.
If you've not grown incredibly tired of the next track; that has been bludgeoned to a bloody mess of bone fragments and Nicki Minaj afterbirth by the kings and queens of Radio One, 'My god is the sun' is the next offering on the record, this track is quite the barn burner featuring an infectious riff and some balls to the wall chorus action. The finale is the banger though, swinging down into the final blast of the riff, doesn't get tiresome; even if Sara Cox creams herself over it.
Rhinestone number 2 is 'Kalopsia' this is a unique track that carefully strolls in and has all of the Josh Homme vocal treatment that could possibly be thrown at it, the overall sound of this track, effects and all give it the most interesting feel of the record so far and intrigue all who dare to dream.
Guest starring on a Queens of the Stone Age record is certainly not for just anyone, I mean, you have to have something going for you in terms of talent, Elton John is one of these characters in the ...Like Clockwork game, from one queen to the queens. This track has the whole grizzly, garage rock riff and thunderous drums courtesy of Dave Grohl.
Swagger is one thing that Homme and Co. Have never struggled with and the next track 'Smooth Sailing' is further proof, with another scratchy intro and a riff that swings bigger than two planet-sized wrecking balls. The falsetto vocals are laced with what can only be described as a lyrical master-class with Homme using falsetto then smashing interesting lyrics into the mixture, 'oh visions of collisions, fuckin' bon voyage' genius. This is another winner on the record, gold.
Next up is 'I appear missing' which follows the theme of the earlier tracks in its creepiness and stomping chorus parts, the final part to this song shows off Homme's falsetto flexing once again, to astounding effect. This coupled with the animation that was previewed on the net earlier this year is an almost perfect match...
The curtains on ...Like Clockwork is the title track, not only is this one of the saddest songs to ever come out of my sound system, this track is the best way to end the record, the evening and definitely the review, if you've not got a copy of this yet, you are genuinely missing out.
It's not as good as Songs for the deaf but it is certainly one of the best things you will hear in 2013.