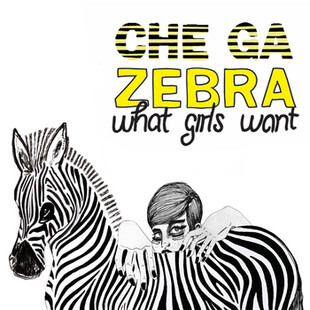 Che Ga Zebra are a relatively new duo from Sheffield straight out of a dirty basement.
Released as a limited run of just 50 (fifty) tapes, you'll have to be keen to grab this one. Released by the Audacious Art Experiment, it's like nothing you might have heard in Sheffield before. Distinctly off-kilter and willfully quirky you'll have to leave any ideas of genre at the door.
Describing themselves as '...an amorphous dough squeezed through the cookie cutter of the good life. Free jazz, free punk, free fun' you can see where they are coming from. Slacker jazz riffs explode off garage rock cast-offs and with influences as diverse as the Beach Boys and That Fucking Tank, you'll be wanting to stick this on if you're in need of something manic.
Each track is a gem waiting to be fished out of a pair of soiled, glitter-filled tights and Che Ga Zebra seem keen on letting you do just that. It's as filthy as it is uncanny and certainly sounds like more than just a duo creating this racket.
This is fun, and not in a way that office 'banter' is fun or a trip to the supermarket is either, it's moment after moment of striking and quite brilliant ideas condensed into three-minute blocks. The only problem is, it's too short. More please.