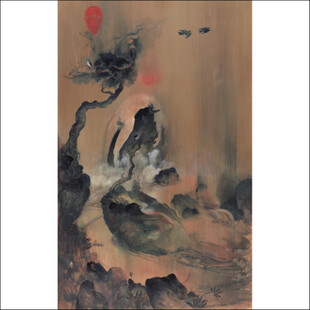 Pan Gu is a jointly improvised collaboration between Leslie Low (The Observatory, ARCN TEMPL) and Lasse Marhaug.
Recorded in Lasse's rehearsal space, this is only the second time the duo have ever worked together. Previously combining forces for a live performance in Singapore, this debut release shows just what can happen when two noise/sound manipulators can create when their art just melds.
Lasse's harsh electronic smatterings sound circuit-bent and almost like the equipment he is using is crying out in agony, while Leslie's smooth and soulful sampling and loops sound pastoral and vivid. Neither one encroaches on the other, rather it smooths out into a cohesive whole.
Yes, Lasse's electronics can seem brash and cold, the whistling corruptions and squeals of interference do take some getting used to, but the explorations are guided by the gentle loops and pulsing of Leslie's contributions.
Fleas Were The Ancestors Of mankind passes through several stages, foghorn-like feedback gives way to micro-electronic fluttering and distant, industrial-sounding crashes and moans meaning its varied as it is spontaneous.
Moments of silence between tracks mean you are given a slight breather before the sounds explode from the speakers once more at times and some of them are downright unnerving. Let The Old Philosopher Use You features what sounds like objects falling down stairs and a sinister breathing and whispering sample to create a Chris Morrois-like nightmare. If you've ever caught his late-night radio series Blue Jam or the televised Jam then you'll know what to expect. If not, think the most unpleasant noises you can colliding at high volumes in calculated ways and you'll have some idea of what to expect.
The album takes its title from the old Chinese myth of Pan Gu, the primeval man, born of the cosmic egg. The story goes that one day the egg split open. The top half became the sky and the bottom half the earth. Pan Gu, who emerged from the broken egg, grew ten feet taller every day, just as the sky became ten feet higher and the earth ten feet thicker. After 18,000 years Pan Gu died. Then, like the cosmic egg, he split into a number of parts. His head formed the sun and moon, his blood the rivers and seas, his hair the forests, his sweat the rain, his breath the wind, his voice thunder and, last of all, his fleas became the ancestors of mankind.
Whether you get this from the music contained within is another matter, sure the infinite growth of Pan Gu could be interpreted in these seemingly random and often difficult reactionary stabbings, but it's probably best to take what message you want from this release. It's certainly a release to while away an hour with as it does have lengthy, calming sections as well as twisted and harsh speaker-bothering material too.