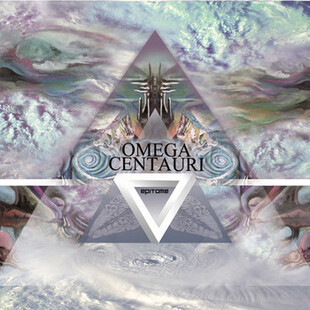 This curious avantgarde release from 'bedroom' label Duplicate Records is a meeting of French types Smohalla and their brethren Omega Centauri, made up of T.Vallely from England and R.Polon from Belgium.
What we have on Smohalla's side of the split is a chaotic and goth-like black metal sound that is both a rush of sound and yet quite primal at the same time. Imagine if the more baroque sounds of Cradle of Filth's good albums escaped and joined a proper black metal band. The keys are the underpinning star here, operating as a lynch pin to the swirling vortex of guitar and whip-crack percussion on display. At their most manic they manage to sound like mental Polish polka/black metal goblins Finntroll, at their most restrained it's like calmer passages from Wolves in the Throne Room. Truly mental, it manages to jump from passage to passage without coming across as disconnected and vague.
On the other side, we have Omega Centauri taking a much more primitivist slant. Guitars are like sheets of skin-slicing rain and we've entered a futuristic and unpleasant black metal realm. Not traditionally Norwegian (there's no mention of forests or snow as far as I can tell) it has a broken future feel. Guitars howl over drumming that seems unsure and exploratory at times and you have to wonder if this outfit are simply willfully obtuse or simply naive and unrehearsed. As a result a lot of their side sounds like a bad dream, where you can't wake up and you're bothered by insane visions you can't shake. The vocals seethe with an air of menace that works well with the tornado of grinding and blinding noise behind it.
An intriguing split for sure, try not to listen if you already hate humanity, it could tip you over the edge.