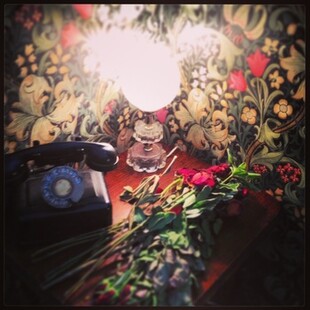 Who Put Bella In The Witch Elm? are a creative two-piece from Derby. Aside from the gobfull of a name, this is really easy to listen to. Bubbling electronica trickles out of the speakers like twinkling stars and the urgent and emotive vocals make them seem a dramatic proposition from the off.
All of this EP was recorded in a front room, giving it an intimate feel similar to People of the North, that microcosmic sound that feels like they are performing it in the room with you in almost uncomfortable closeness. The shimmering and minimalist sound probably sounds best on tracks like Omophagia which also features some plaintive guitar playing that brings a sandpaper hue to the otherwise cold sounds on offer.
Lyrics are about reaching towards the fantastic, We control horizons plead the vocals at times.
This is a great snippet of truly interesting music, subtle and mysterious it would make fantastic backing to incidental shots on documentary soundtracks or as part of an uber-cool bar ambiance but equally, would make an intense and involving live show too.
Final track Temples and Oceans is a bit more lively, feeling like a race to the finish and with some euphoric multi-tracking on the vocals, making it seem all the more epic, in a small, compact style.