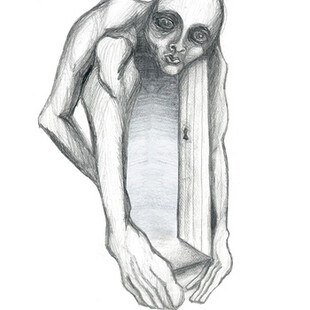 The intricate gentle almost ambient feel to the opening track One, makes you feel all fuzzy inside, and as the guitars and vocals kick in, you know instantly that this is going to be a fun ride all the way. The haunting vocal midway through, changes the style of the song, but the drums drive it forward keeping the song moving in the right direction. As I sit here listening, my feet are moving, my head it nodding, all excellent signs for the rest of the EP.
The Inside EP offers a lot of hope for Torso. The genre of psychedelic 70s-inspired rock has become more evident over the last five years, with several bands displaying their affections for this style of riff laden bass inspired music, and with these songs, Vienna based Torso, are displaying their musical skills out in front of us, and doing a mighty fine job as well.
The songs aren't overly complex or technically superior to any others in the genre, but what they do well is composing songs that are beautifully crafted and extremely soulful. Inside shows their softer side, a simple drum beat, combined with a gentle riff, and tuneful vocals, shows a lot of promise. It's a nine-minute song, with lots of twists and turns, allowing each band member the chance to shine and middle instrumental section is just pure 70s rock at its finest.
My favourite track is up next, Mona Lisa, and it's such a stunning track to put midway through the EP. It encapsulates everything positive about Torso, and where they are as musicians, heavy grooves, simple straight forward riffs all working as one cohesive unit, focusing on their main goal of producing stunning 70's psychedelic rock inspired bliss.
I can only hope that this is the beginning of a career that spans much success for Torso, as their music is very catchy and easy to listen but with the genre getting over crowded with this type of band, it is difficult to stand out from the crowd. But this EP is well worth a listen and I'm sure that many people will feel like I did when they listen to it.